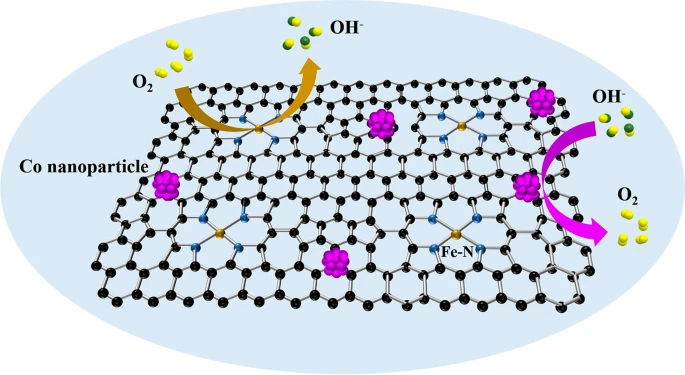 Issue
MOF-Derived Co and Fe Species Loaded on N-Doped Carbon Networks as Efficient Oxygen Electrocatalysts for Zn-Air Batteries
Corresponding Author: Zhen Zhou
Nano-Micro Letters, Vol. 14 (2022), Article Number: 162

Abstract
Searching for cheap, efficient, and stable oxygen electrocatalysts is vital to promote the practical performance of Zn-air batteries with high theoretic energy density. Herein, a series of Co nanoparticles and highly dispersed Fe loaded on N-doped porous carbon substrates are prepared through a "double-solvent" method with in situ doped metal-organic frameworks as precursors. The optimized catalysts exhibit excellent performance for oxygen reduction and evolution reaction. Furthermore, rechargeable Zn-air batteries with designed catalysts demonstrate higher peak power density and better cycling stability than those with commercial Pt/C+RuO2. According to structure characterizations and electrochemical tests, the interaction of Co nanoparticles and highly dispersed Fe contributes to the superior performance for oxygen electrocatalysis. In addition, large specific surface areas, porous structures and interconnected three-dimensional carbon networks also play important roles in improving oxygen electrocatalysis. This work provides inspiration for rational design of advanced oxygen electrocatalysts and paves a way for the practical application of rechargeable Zn-air batteries.
Highlights:
1 A novel method is developed to prepare bifunctional oxygen electrocatalysts composed of Co nanoparticles and highly dispersed Fe loaded on N-doped carbon substrates by virtues of metal-organic frameworks and two different doping processes.
2 The designed catalysts show comparable performance with commercial catalysts. Meanwhile, rechargeable Zn-air batteries with prepared catalysts demonstrate high peak power density and good cycling stability.
3 The performance promotion originates from the synergy between Co nanoparticles and highly dispersed Fe, porous structures, large specific areas, and distinct three-dimensional carbon networks.
Keywords
Oxygen reduction reaction
Oxygen evolution reaction
Zn-air batteries
Bifunctional catalysts
Metal-organic frameworks
Xue, Yuanyuan, Yibo Guo, Qinming Zhang, Zhaojun Xie, Jinping Wei, and Zhen Zhou. 2022. "MOF-Derived Co and Fe Species Loaded on N-Doped Carbon Networks As Efficient Oxygen Electrocatalysts for Zn-Air Batteries". Nano-Micro Letters 14 (August):162. https://doi.org/10.1007/s40820-022-00890-w.
Download Citation
Endnote/Zotero/Mendeley (RIS)
BibTeX
References
Y.Y. Xue, Y.B. Guo, H.J. Cui, Z. Zhou, Catalyst design for electrochemical reduction of CO2 to multicarbon products. Small Methods 5(10), 2100736 (2021). https://doi.org/10.1002/smtd.202100736
H.J. Cui, Y.B. Guo, Z. Zhou, Three-dimensional graphene-based macrostructures for electrocatalysis. Small 17(22), 2005255 (2021). https://doi.org/10.1002/smll.202005255
H.J. Cui, Y.B. Guo, L.M. Guo, L. Wang, Z. Zhou et al., Heteroatom-doped carbon materials and their composites as electrocatalysts for CO2 reduction. J. Mater. Chem. A 6(39), 18782–18793 (2018). https://doi.org/10.1039/c8ta07430e
X. Hu, S. Yao, L. Chen, X. Zhang, M. Jiao et al., Understanding the role of axial O in CO2 electroreduction on NiN4 single-atom catalysts via simulations in realistic electrochemical environment. J. Mater. Chem. A 9, 23515–23521 (2021). https://doi.org/10.1039/D1TA07791K
J. Bai, J. Mei, T. Liao, Q. Sun, Z.G. Chen et al., Molybdenum-promoted surface reconstruction in polymorphic cobalt for initiating rapid oxygen evolution. Adv. Energy Mater. 12(5), 2103247 (2021). https://doi.org/10.1002/aenm.202103247
Y. Li, H. Dai, Recent advances in zinc-air batteries. Chem. Soc. Rev. 43(15), 5257–5275 (2014). https://doi.org/10.1039/c4cs00015c
Y.B. Guo, S. Yao, L.X. Gao, A. Chen, M.G. Jiao et al., Boosting bifunctional electrocatalytic activity in S and N co-doped carbon nanosheets for high-efficiency Zn-air batteries. J. Mater. Chem. A 8(8), 4386–4395 (2020). https://doi.org/10.1039/c9ta12762c
Y.B. Guo, Y.N. Chen, H.J. Cui, Z. Zhou, Bifunctional electrocatalysts for rechargeable Zn-air batteries. Chin. J. Catal. 40, 1298–1310 (2019). https://doi.org/10.1016/S1872-2067(19)63349-8
J. Fu, R. Liang, G. Liu, A. Yu, Z. Bai et al., Recent progress in electrically rechargeable zinc-air batteries. Adv. Mater. 31(31), 1805230 (2019). https://doi.org/10.1002/adma.201805230
Z.L. Wang, D. Xu, J.J. Xu, X.B. Zhang, Oxygen electrocatalysts in metal-air batteries: from aqueous to nonaqueous electrolytes. Chem. Soc. Rev. 43(22), 7746–7786 (2014). https://doi.org/10.1039/c3cs60248f
Z.P. Wu, X.F. Lu, S.Q. Zang, X.W. Lou, Non-noble-metal-based electrocatalysts toward the oxygen evolution reaction. Adv. Funct. Mater. 30(15), 1910274 (2020). https://doi.org/10.1002/adfm.201910274
Q.Q. Zhang, J.Q. Guan, Single-atom catalysts for electrocatalytic applications. Adv. Funct. Mater. 30(31), 2000768 (2020). https://doi.org/10.1002/adfm.202000768
X.L. Tian, X.F. Lu, B.Y. Xia, X.W. Lou, Advanced electrocatalysts for the oxygen reduction reaction in energy conversion technologies. Joule 4, 45–68 (2020). https://doi.org/10.1016/j.joule.2019.12.014
S. Ibraheem, S. Chen, J. Li, Q. Wang, Z. Wei, In situ growth of vertically aligned FeCoOOH-nanosheets/nanoflowers on Fe, N co-doped 3D-porous carbon as efficient bifunctional electrocatalysts for rechargeable zinc-O2 batteries. J. Mater. Chem. A 7(16), 9497–9502 (2019). https://doi.org/10.1039/c9ta01964b
F. Meng, H. Zhong, D. Bao, J. Yan, X. Zhang, In situ coupling of strung Co4N and intertwined N-C fibers toward free-standing bifunctional cathode for robust, efficient, and flexible Zn-air batteries. J. Am. Chem. Soc. 138(32), 10226–10231 (2016). https://doi.org/10.1021/jacs.6b05046
M.J. Wu, G.X. Zhang, J.L. Qiao, N. Chen, W.F. Chen et al., Ultra-long life rechargeable zinc-air battery based on high-performance trimetallic nitride and NCNT hybrid bifunctional electrocatalysts. Nano Energy 61, 86–95 (2019). https://doi.org/10.1016/j.nanoen.2019.04.031
W.J. Wan, X.J. Liu, H.Y. Li, X.Y. Peng, D.S. Xi et al., 3D carbon framework-supported CoNi nanops as bifunctional oxygen electrocatalyst for rechargeable Zn-air batteries. Appl. Catal. B 240, 193–200 (2019). https://doi.org/10.1016/j.apcatb.2018.08.081
G. Zhou, G. Liu, X. Liu, Q. Yu, H. Mao et al., 1D/3D heterogeneous assembling body as trifunctional electrocatalysts enabling zinc-air battery and self-powered overall water splitting. Adv. Funct. Mater. 32, 2107608 (2021). https://doi.org/10.1002/adfm.202107608
F. Dong, M. Wu, Z. Chen, X. Liu, G. Zhang et al., Atomically dispersed transition metal-nitrogen-carbon bifunctional oxygen electrocatalysts for zinc-air batteries: recent advances and future perspectives. Nano-Micro Lett. 14, 36 (2021). https://doi.org/10.1007/s40820-021-00768-3
H. Fan, K. Mao, M. Liu, O. Zhuo, J. Zhao et al., Tailoring the nano heterointerface of hematite/magnetite on hierarchical nitrogen-doped carbon nanocages for superb oxygen reduction. J. Mater. Chem. A 6(43), 21313–21319 (2018). https://doi.org/10.1039/C8TA06442C
H. Fan, L. Yang, Y. Wang, X. Zhang, Q. Wu et al., Boosting oxygen reduction activity of spinel CoFe2O4 by strong interaction with hierarchical nitrogen-doped carbon nanocages. Sci. Bull. 62(20), 1365–1372 (2017). https://doi.org/10.1016/j.scib.2017.10.001
H. Fan, Y. Wang, F. Gao, L. Yang, M. Liu et al., Hierarchical sulfur and nitrogen co-doped carbon nanocages as efficient bifunctional oxygen electrocatalysts for rechargeable Zn-air battery. J. Energy Chem. 34, 64–71 (2019). https://doi.org/10.1016/j.jechem.2018.09.003
S.L. James, Metal-organic frameworks. Chem. Soc. Rev. 32(5), 276–288 (2003). https://doi.org/10.1039/b200393g
X. Zhang, A. Chen, M. Zhong, Z.H. Zhang, X. Zhang et al., Metal-organic frameworks (MOFs) and MOF-derived materials for energy storage and conversion. Electrochem. Energy Rev. 2, 29–104 (2019). https://doi.org/10.1007/s41918-018-0024-x
A. Mahmood, W.H. Guo, H. Tabassum, R.Q. Zou, Metal-organic framework-based nanomaterials for electrocatalysis. Adv. Energy Mater. 6(17), 1600423 (2016). https://doi.org/10.1002/aenm.201600423
Y. Zhu, K. Yue, C. Xia, S. Zaman, H. Yang et al., Recent advances on MOF derivatives for non-noble metal oxygen electrocatalysts in zinc-air batteries. Nano-Micro Lett. 13, 137 (2021). https://doi.org/10.1007/s40820-021-00669-5
L. Yang, X.F. Zeng, W.C. Wang, D.P. Cao, Recent progress in MOF-derived, heteroatom-doped porous carbons as highly efficient electrocatalysts for oxygen reduction reaction in fuel cells. Adv. Funct. Mater. 28(7), 1704537 (2018). https://doi.org/10.1002/adfm.201704537
M. Zhao, H. Liu, H. Zhang, W. Chen, H. Sun et al., A pH-universal ORR catalyst with single-atom iron sites derived from a double-layer MOF for superior flexible quasi-solid-state rechargeable Zn-air batteries. Energy Environ. Sci. 14, 6455–6463 (2021). https://doi.org/10.1039/D1EE01602D
Y.N. Chen, Y.B. Guo, H.J. Cui, Z.J. Xie, X. Zhang et al., Bifunctional electrocatalysts of MOF-derived Co-N/C on bamboo-like MnO nanowires for high-performance liquid and solid-state Zn-air batteries. J. Mater. Chem. A 6(20), 9716–9722 (2018). https://doi.org/10.1039/c8ta01859f
Y. He, X. Yang, Y. Li, L. Liu, S. Guo et al., Atomically dispersed Fe-Co dual metal sites as bifunctional oxygen electrocatalysts for rechargeable and flexible Zn-air batteries. ACS Catal. 12(2), 1216–1227 (2022). https://doi.org/10.1021/acscatal.1c04550
H.F. Wang, L. Chen, H. Pang, S. Kaskel, Q. Xu, MOF-derived electrocatalysts for oxygen reduction, oxygen evolution and hydrogen evolution reactions. Chem. Soc. Rev. 49(5), 1414–1448 (2020). https://doi.org/10.1039/c9cs00906j
C.X. Zhao, J.N. Liu, B.Q. Li, D. Ren, X. Chen et al., Multiscale construction of bifunctional electrocatalysts for long-lifespan rechargeable zinc-air batteries. Adv. Funct. Mater. 30(36), 2003619 (2020). https://doi.org/10.1002/adfm.202003619
V. Jose, H. Hu, E. Edison, W. Manalastas, H. Ren et al., Modulation of single atomic Co and Fe sites on hollow carbon nanospheres as oxygen electrodes for rechargeable Zn-air batteries. Small Methods 5(2), 2000751 (2021). https://doi.org/10.1002/smtd.202000751
J. Wang, W. Liu, G. Luo, Z.J. Li, C. Zhao et al., Synergistic effect of well-defined dual sites boosting the oxygen reduction reaction. Energy Environ. Sci. 11(12), 3375–3379 (2018). https://doi.org/10.1039/c8ee02656d
Z. Wang, X. Jin, C. Zhu, Y. Liu, H. Tan et al., Atomically dispersed Co2-N6 and Fe-N4 costructures boost oxygen reduction reaction in both alkaline and acidic media. Adv. Mater. 33(49), 2104718 (2021). https://doi.org/10.1002/adma.202104718
L. Jiao, R. Zhang, G. Wan, W. Yang, X. Wan et al., Nanocasting SiO2 into metal-organic frameworks imparts dual protection to high-loading Fe single-atom electrocatalysts. Nat. Commun. 11, 2831 (2020). https://doi.org/10.1038/s41467-020-16715-6
K. Chen, S. Kim, M. Je, H. Choi, Z. Shi et al., Ultrasonic plasma engineering toward facile synthesis of single-atom M-N4/N-doped carbon (M = Fe, Co) as superior oxygen electrocatalyst in rechargeable zinc–air batteries. Nano-Micro Lett. 13, 60 (2021). https://doi.org/10.1007/s40820-020-00581-4
H. Guo, Q. Feng, J. Zhu, J. Xu, Q. Li et al., Cobalt nanop-embedded nitrogen-doped carbon/carbon nanotube frameworks derived from a metal-organic framework for tri-functional ORR, OER and HER electrocatalysis. J. Mater. Chem. A 7(8), 3664–3672 (2019). https://doi.org/10.1039/c8ta11400e
Y. Chen, C. Gong, Z. Shi, D. Chen, X. Chen et al., Molten-salt-assisted synthesis of onion-like Co/CoO@FeNC materials with boosting reversible oxygen electrocatalysis for rechargeable Zn-air battery. J. Colloid Interface Sci. 596, 206–214 (2021). https://doi.org/10.1016/j.jcis.2021.03.145
F.P. Pan, H.G. Zhang, K.X. Liu, D. Cullen, K. More et al., Unveiling active sites of CO2 reduction on nitrogen-coordinated and atomically dispersed iron and cobalt catalysts. ACS Catal. 8(4), 3116–3122 (2018). https://doi.org/10.1021/acscatal.8b00398
A. Aijaz, A. Karkamkar, Y.J. Choi, N. Tsumori, E. Ronnebro et al., Immobilizing highly catalytically active Pt nanops inside the pores of metal-organic framework: a double solvents approach. J. Am. Chem. Soc. 134(34), 13926–13929 (2012). https://doi.org/10.1021/ja3043905
M. Imperor-Clerc, D. Bazin, M. Appay, P.B. Dominique et al., Crystallization of β-MnO2 nanowires in the pores of SBA-15 silicas:in situ investigation using synchrotron radiation. Chem. Mater. 16(9), 1813–1821 (2004). https://doi.org/10.1021/cm035353m
Z.P. Zeng, L.Y. Gan, H.B. Yang, X.Z. Su, J.J. Gao et al., Orbital coupling of hetero-diatomic nickel-iron site for bifunctional electrocatalysis of CO2 reduction and oxygen evolution. Nat. Commun. 12, 4088 (2021). https://doi.org/10.1038/s41467-021-24052-5
Y.B. Guo, S. Yao, Y.Y. Xue, X. Hu, H.J. Cui et al., Nickel single-atom catalysts intrinsically promoted by fast pyrolysis for selective electroreduction of CO2 into CO. Appl. Catal. B 304, 120997 (2022). https://doi.org/10.1016/j.apcatb.2021.120997
Y. Hou, Z.H. Wen, S.M. Cui, S.Q. Ci, S. Mao et al., An advanced nitrogen-doped graphene/cobalt-embedded porous carbon polyhedron hybrid for efficient catalysis of oxygen reduction and water splitting. Adv. Funct. Mater. 25(6), 872–882 (2015). https://doi.org/10.1002/adfm.201403657
W. Peng, X.X. Yang, L.C. Mao, J.H. Jin, S.L. Yang et al., ZIF-67-derived Co nanops anchored in N doped hollow carbon nanofibers as bifunctional oxygen electrocatalysts. Chem. Eng. J. 407, 127157 (2021). https://doi.org/10.1016/j.cej.2020.127157
I.S. Amiinu, X. Liu, Z. Pu, W. Li, Q. Li et al., From 3D ZIF nanocrystals to Co–Nx/C nanorod array electrocatalysts for ORR, OER, and Zn–air batteries. Adv. Funct. Mater. 28(5), 1704638 (2018). https://doi.org/10.1002/adfm.201704638
Z. Ma, S. Liu, N. Tang, T. Song, K. Motokura et al., Coexistence of Fe nanoclusters boosting Fe single atoms to generate singlet oxygen for efficient aerobic oxidation of primary amines to imines. ACS Catal. 12(9), 5595–5604 (2022). https://doi.org/10.1021/acscatal.1c04467
P. Rao, Y. Liu, Y. Su, M. Zhong, K. Zhang et al., S, N co-doped carbon nanotube encased Co NPs as efficient bifunctional oxygen electrocatalysts for zinc-air batteries. Chem. Eng. J. 422, 130135 (2021). https://doi.org/10.1016/j.cej.2021.130135
Z.Z. Sun, A. Curto, J. Rodriguez-Fernandez, Z.G. Wang, A. Parikh et al., The effect of Fe dopant location in Co(Fe)OOHx nanops for the oxygen evolution reaction. ACS Nano 15(11), 18226–18236 (2021). https://doi.org/10.1021/acsnano.1c07219
L. Gong, X.Y.E. Chng, Y.H. Du, S.B. Xi, B.S. Yeo, Enhanced catalysis of the electrochemical oxygen evolution reaction by iron(III) ions adsorbed on amorphous cobalt oxide. ACS Catal. 8(2), 807–814 (2018). https://doi.org/10.1021/acscatal.7b03509