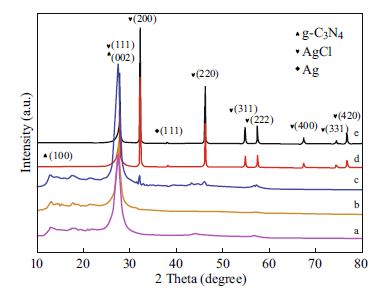 Issue
AgCl/Ag/g-C3N4 Hybrid Composites: Preparation, Visible Light-Driven Photocatalytic Activity and Mechanism
Corresponding Author: Kezheng Chen
Nano-Micro Letters, Vol. 8 No. 2 (2016), Article Number: 182-192

Abstract
The ternary plasmonic AgCl/Ag/g-C3N4 photocatalysts were successfully fabricated by a modified deposition–precipitation method, through which Ag/AgCl nanoparticles (5–15 nm in size) were evenly dispersed on the surface of g-C3N4. The AgCl/Ag/g-C3N4 composites exhibited higher photocatalytic activity than Ag/AgCl and g-C3N4. The enhanced photocatalytic performance could be attributed to an efficient separation of electron–hole pairs through a Z-scheme mechanism, in which Ag nanoparticles acted as charge separation centers.
Keywords
AgCl/Ag/g-C3N4
Hybrid
Photocatalytic activity
Bao, Yongchao, and Kezheng Chen. 2015. "AgCl/Ag/G-C3N4 Hybrid Composites: Preparation, Visible Light-Driven Photocatalytic Activity and Mechanism". Nano-Micro Letters 8 (2):182-92. https://doi.org/10.1007/s40820-015-0076-y.
Download Citation
Endnote/Zotero/Mendeley (RIS)
BibTeX
References
C. Wang, K. Maeda, A. Thomas, K. Takanabe, G. Xin, J.M. Carlsson, K. Domen, M. Antonietti, A metal-free polymeric photocatalyst for hydrogen production from water under visible light. Nat. Mater. 8(1), 76–80 (2009). doi:10.1038/nmat2317
X.C. Wang, X.F. Chen, A. Thomas, X.Z. Fu, M. Antonietti, Metal-containing carbon nitride compounds: a new functional organic-metal hybrid material. Adv. Mater. 21(16), 1–4 (2009). doi:10.1002/adma.200802627
Y. Wang, X.C. Wang, M. Antonietti, Polymeric graphitic carbon nitride as a heterogeneous organocatalyst: From photochemistry to multipurpose catalysis to sustainable chemistry. Angew. Chem. Int. Ed. 51(1), 68–89 (2012). doi:10.1002/anie.201101182
T. Are, F. Anna, G. Frederic, A. Markus, M. Jens-Oliver, S. Robert, M.C. Johan, Graphitic carbon nitride materials: variation of structure and morphology and their use as metal-free catalysts. J. Mater. Chem. 18(41), 4893–4908 (2008). doi:10.1039/b800274f
S.W. Zhang, J.X. Li, M.Y. Zeng, G.X. Zhao, J.Z. Xu, W.P. Hu, X.K. Wang, In situ synthesis of water-soluble magnetic graphitic carbon nitride photocatalyst and its synergistic catalytic performance. ACS App. Mater. Interfaces 5(23), 12735–12743 (2013). doi:10.1021/am404123z
S.C. Yan, Z.S. Li, Z.G. Zou, Photodegradation performance of g-C3N4 fabricated by directly heating melamine. Langmuri 25(17), 10397–10401 (2009). doi:10.1021/la900923z
Y. Wang, J.S. Zhang, X.C. Wang, M. Antonietti, H. Li, Boron- and fluorine-containing mesoporous carbon nitride polymers: metal-free catalysts for cyclohexane oxidation. Angew. Chem. Int. Ed. 49(19), 3356–3359 (2010). doi:10.1002/anie.201000120
G. Liu, P. Niu, C.H. Sun, S.C. Smith, Z.G. Chen, Q.G. Lu, H.M. Cheng, Unique electronic structure induced high photoreactivity of sulfur-doped graphitic C3N4. JACS 132(33), 11642–11648 (2010). doi:10.1021/ja103798k
S.C. Yan, Z.S. Li, Z.G. Zou, Photodegradation of rhodamine B and methyl orange over boron-doped g-C3N4 under visible light irradiation. Langmuir 26(6), 3894–3901 (2010). doi:10.1021/la904023j
G.G. Zhang, M.W. Zhang, X.X. Ye, X.Q. Qiu, S. Lin, X.C. Wang, Iodine modified carbon nitride semiconductors as visible light photocatalysts for hydrogen evolution. Adv. Mater. 26(5), 805–809 (2014). doi:10.1002/adma.201303611
J. Xu, Y. Wang, Y. Zhu, Nanoporous graphitic carbon nitride with enhanced photocatalytic performance. Langmuir 29(33), 10566–10572 (2013). doi:10.1021/la402268u
H. Yan, Soft-templating synthesis of mesoporous graphitic carbon nitride with enhanced photocatalytic H2 evolution under visible light. Chem. Commun. 48(28), 3430–3432 (2012). doi:10.1039/c2cc00001f
S.S. Park, S.W. Chu, C.F. Xue, D, Y. Zhao, C.S. Ha, Facile synthesis of mesoporous carbon nitrides using the incipient wetness method and the application as hydrogen adsorbent. J. Mater. Chem. 21(29), 10801–10807 (2011). doi:10.1039/c1jm10849b
Y. Wang, X.C. Wang, M. Antonietti, Y.J. Zhang, Facile one-pot synthesis of nanoporous carbon nitride solids by using soft templates. Chem. Sus. Chem. 3(4), 435–439 (2010). doi:10.1002/cssc.200900284
F. Goettmann, A. Fischer, M. Antonietti, A. Thomas, Chemical synthesis of mesoporous carbon nitrides using hard templates and their use as a metal-free catalyst for Friedel–Crafts reaction of benzene. Angew. Chem. Int. Ed. 45(27), 4467–4471 (2006). doi:10.1002/anie.200600412
N.Y. Cheng, J.Q. Tian, Q. Liu, C.J. Ge, A.H. Qusti, A.M. Asiri, A.O. Al-Youbi, X. Sun, Au-nanoparticle-loaded graphitic carbon nitride nanosheets: green photocatalytic synthesis and application toward the degradation of organic pollutants. ACS Appl. Mater. Interfaces 5(15), 6815–6819 (2013). doi:10.1021/am401802r
S. Subhajyoti, M. Satyabadi, P. Kulamani, Facile synthesis of Au/g-C3N4 nanocomposites: an inorganic/organic hybrid plasmonic photocatalyst with enhanced hydrogen gas evolution under visible-light irradiation. Chem. Cat. Chem. 6, 1453–1462 (2014). doi:10.1002/cctc.201300949
P. Xiao, Y.X. Zhao, T. Wang, Y.Y. Zhan, H.H. Wang, J.L. Li, A. Thomas, J.J. Zhu, Polymeric carbon nitride/mesoporous silica composites as catalyst support for Au and Pt nanoparticles. Chem. Eur. J. 20(10), 2872–2878 (2014). doi:10.1002/chem.201303741
Y.S. Xu, W.D. Zhang, Ag/AgBr-grafted graphite-like carbon nitride with enhanced plasmonic photocatalytic activity under visible light. Chem. Cat. Chem. 5(8), 2343–2351 (2013). doi:10.1002/cctc.201300144
L. Huang, H. Xu, Y. Li, H. Li, X. Cheng, J. Xia, Y. Xu, G. Cai, Visible-light-induced WO3/g- C3N4 composites with enhanced photocatalytic activity. Dalton Trans. 42(24), 8606–8616 (2013). doi:10.1039/c3dt00115f
S. Kumar, T. Surendar, A. Baruah, V. Shanker, Synthesis of a novel and stable g- C3N4-Ag3PO4 hybrid nanocomposite photocatalyst and study of the photocatalytic activity under visible light irradiation. J. Mater. Chem. A 1(17), 5333–5340 (2013). doi:10.1039/c3ta00186e
C. Chang, L. Zhu, S. Wang, X. Chu, L. Yue, Novel mesoporous graphite carbon nitride/BiOI heterojunction for enhancing photocatalytic performance under visible-light irradiation. ACS Appl. Mater. Interfaces 6(7), 5083–5093 (2014). doi:10.1021/am5002597
Y.L. Tian, B.B. Chang, J.L. Lu, J. Fu, F.J. Xi, X.P. Dong, Hydrothermal synthesis of graphitic carbon nitride-Bi2WO6 heterojunctions with enhanced visible light photocatalytic activities. ACS Appl. Mater. Interfaces 5(15), 7079–7085 (2013). doi:10.1021/am4013819
M. Logar, B. Jancar, S. Sturm, D. Suvorov, Weak polyion multilayer-assisted in situ synthesis as a route toward a plasmonic Ag/TiO2 photocatalyst. Langmuir 26(14), 12215–12224 (2010). doi:10.1021/la101124q
X.F. Wang, S.F. Li, Y.Q. Ma, H.G. Yu, J.G. Yu, H2WO4·H2O/Ag/AgCl composite nanoplates: a plasmonic z-scheme visible-light photocatalyst. J. Phys. Chem. C 115(30), 14648–14655 (2011). doi:10.1021/jp2037476
H. Zhang, X.F. Fan, X. Quan, S. Chen, H.T. Yu, Graphene sheets grafted Ag@AgCl hybrid with enhanced plasmonic photocatalytic activity under visible light. Environ. Sci. Technol. 45(13), 5731–5736 (2011). doi:10.1021/es2002919
G. Begum, J. Manna, R.K. Rana, Controlled orientation in a bio-Inspired assembly of Ag/AgCl/ZnO nanostructures enables enhancement in visible-light-induced photocatalytic performance. Chem. Eur. J. 18, 6847–6853 (2012). doi:10.1002/chem.201103760
M.S. Zhu, P.L. Chen, M.H. Liu, Ag/AgBr/graphene oxide nanocomposite synthesized via oil/water and water/oil microemulsions: a comparison of sunlight energized plasmonic photocatalytic activity. Langmuir 28(7), 3385–3390 (2012). doi:10.1021/la204452p
R. Liu, P. Wang, X.F. Wang, H.G. Yu, J.G. Yu, UV- and visible-light photocatalytic activity of simultaneously deposited and doped Ag/Ag(I)-TiO2 photocatalyst. J. Phys. Chem. C 116(33), 17721–17728 (2012). doi:10.1021/jp305774n
C. Hu, T.W. Peng, X.X. Hu, Y.L. Nie, X.F. Zhou, J.H. Qu, H. He, Plasmon-induced photodegradation of toxic pollutants with Ag–AgI/Al2O3 under visible-light irradiation. JACS 132, 857–862 (2010). doi:10.1021/ja907792d
P. Wang, B.B. Huang, Y. Dai, M.H. Whangbo, Plasmonic photocatalysts: harvesting visible light with noble metal nanoparticles. Phys. Chem. Chem. Phys. 14(28), 9813–9825 (2012). doi:10.1039/c2cp40823f
X. Yao, X.H. Liu, X.L. Hu, Synthesis of the Ag/AgCl/g-C3N4 composite with high photocatalytic activity under visible light irradiation. Chem. Cat. Chem. 6(12), 3409–3418 (2014). doi:10.1002/cctc.201402487
S.W. Zhang, J.X. Li, X.K. Wang, Y.S. Huang, M.Y. Zeng, J.Z. Xu, In situ ion exchange synthesis of strongly coupled Ag@AgCl/g-C3N4 porous nanosheets as plasmonic photocatalyst for highly efficient visible-light photocatalysis. ACS Appl. Mater. Interfaces 6(24), 22116–22125 (2014). doi:10.1021/am505528c
S.L. Lin, L. Liu, J.S. Hu, Y.H. Liang, W.Q. Cui, Nano Ag@AgBr surface-sensitized Bi2WO6 photocatalyst: oil-in-water synthesis and enhanced photocatalytic degradation. Appl. Sur. Sci. 324, 20–29 (2015). doi:10.1016/j.apsusc.2014.10.101
H. Katsumata, T. Sakai, T. Suzuki, S. Kaneco, Highly efficient photocatalytic activity of g-C3N4/Ag3PO4 hybrid photocatalysts through z-scheme photocatalytic mechanism under visible light. Ind. Eng. Chem. Res. 53(19), 8018–8025 (2014). doi:10.1021/ie5012036
X.J. Wang, W.Y. Yang, F.T. Li, Y.B. Xue, R.H. Liu, Y.J. Hao, In Situ microwave-assisted synthesis of porous N–TiO2/g-C3N4 heterojunctions with enhanced visible-light photocatalytic properties. Ind. Eng. Chem. Res. 52(48), 17140–17150 (2013). doi:10.1021/ie402820v
H.J. Cheng, J.G. Hou, H.M. Zhu, X.M. Guo, Plasmonic Z-scheme α/β-Bi2O3–Ag–AgCl photocatalyst with enhanced visible-light photocatalytic performance. RSC Adv. 4(78), 41622–41630 (2014). doi:10.1039/C4RA07938H
R.F. Dong, B.Z. Tian, C.Y. Zeng, T.Y. Li, T.T. Wang, J.L. Zhang, Ecofriendly synthesis and photocatalytic activity of uniform cubic Ag@AgCl plasmonic photocatalyst. J. Phys. Chem. C 117(1), 213–220 (2013). doi:10.1021/jp311970k
L.L. Chen, W.X. Zhang, C. Feng, Z.H. Yang, Y.M. Yang, Replacement/etching route to ZnSe nanotube arrays and their enhanced photocatalytic activities. Ind. Eng. Chem. Res. 51(11), 4208–4214 (2012). doi:10.1021/ie202044v
F. Dong, L.W. Wu, Y.J. Sun, M. Fu, Z.B. Wu, S.C. Lee, Efficient synthesis of polymeric g-C3N4 layered materials as novel efficient visible light driven photocatalysts. J. Mater. Chem. 21(39), 15171–15174 (2011). doi:10.1039/c1jm12844b
Y.X. Tang, Z.J. Gui, C. Xing, A. Li, P.D. Kanhere et al., Efficient Ag@AgCl cubic cage photocatalysts profit from ultrafast plasmon-induced electron transfer processes. Adv. Fun. Mater. 23(23), 2932–2940 (2013). doi:10.1002/adfm.201203379
J.G. Hou, Z. Wang, C. Yang, W.L. Zhou, S.Q. Jiao, H.M. Zhu, Hierarchically plasmonic Z-Scheme photocatalyst of Ag/AgCl nanocrystals decorated mesoporous single-crystalline metastable Bi20TiO32 nanosheets. J. Phys. Chem. C 117(10), 5132–5141 (2013). doi:10.1021/jp311996r
Z.Y. Wang, W. Guan, Y.J. Sun, F. Dong, Y. Zhou, W.K. Ho, Water-assisted production of honeycomb-like g-C3N4 with ultralong carrier lifetime and outstanding photocatalytic activity. Nanoscale 7, 2471–2479 (2015). doi:10.1039/C4NR05732E
References
C. Wang, K. Maeda, A. Thomas, K. Takanabe, G. Xin, J.M. Carlsson, K. Domen, M. Antonietti, A metal-free polymeric photocatalyst for hydrogen production from water under visible light. Nat. Mater. 8(1), 76–80 (2009). doi:10.1038/nmat2317
X.C. Wang, X.F. Chen, A. Thomas, X.Z. Fu, M. Antonietti, Metal-containing carbon nitride compounds: a new functional organic-metal hybrid material. Adv. Mater. 21(16), 1–4 (2009). doi:10.1002/adma.200802627
Y. Wang, X.C. Wang, M. Antonietti, Polymeric graphitic carbon nitride as a heterogeneous organocatalyst: From photochemistry to multipurpose catalysis to sustainable chemistry. Angew. Chem. Int. Ed. 51(1), 68–89 (2012). doi:10.1002/anie.201101182
T. Are, F. Anna, G. Frederic, A. Markus, M. Jens-Oliver, S. Robert, M.C. Johan, Graphitic carbon nitride materials: variation of structure and morphology and their use as metal-free catalysts. J. Mater. Chem. 18(41), 4893–4908 (2008). doi:10.1039/b800274f
S.W. Zhang, J.X. Li, M.Y. Zeng, G.X. Zhao, J.Z. Xu, W.P. Hu, X.K. Wang, In situ synthesis of water-soluble magnetic graphitic carbon nitride photocatalyst and its synergistic catalytic performance. ACS App. Mater. Interfaces 5(23), 12735–12743 (2013). doi:10.1021/am404123z
S.C. Yan, Z.S. Li, Z.G. Zou, Photodegradation performance of g-C3N4 fabricated by directly heating melamine. Langmuri 25(17), 10397–10401 (2009). doi:10.1021/la900923z
Y. Wang, J.S. Zhang, X.C. Wang, M. Antonietti, H. Li, Boron- and fluorine-containing mesoporous carbon nitride polymers: metal-free catalysts for cyclohexane oxidation. Angew. Chem. Int. Ed. 49(19), 3356–3359 (2010). doi:10.1002/anie.201000120
G. Liu, P. Niu, C.H. Sun, S.C. Smith, Z.G. Chen, Q.G. Lu, H.M. Cheng, Unique electronic structure induced high photoreactivity of sulfur-doped graphitic C3N4. JACS 132(33), 11642–11648 (2010). doi:10.1021/ja103798k
S.C. Yan, Z.S. Li, Z.G. Zou, Photodegradation of rhodamine B and methyl orange over boron-doped g-C3N4 under visible light irradiation. Langmuir 26(6), 3894–3901 (2010). doi:10.1021/la904023j
G.G. Zhang, M.W. Zhang, X.X. Ye, X.Q. Qiu, S. Lin, X.C. Wang, Iodine modified carbon nitride semiconductors as visible light photocatalysts for hydrogen evolution. Adv. Mater. 26(5), 805–809 (2014). doi:10.1002/adma.201303611
J. Xu, Y. Wang, Y. Zhu, Nanoporous graphitic carbon nitride with enhanced photocatalytic performance. Langmuir 29(33), 10566–10572 (2013). doi:10.1021/la402268u
H. Yan, Soft-templating synthesis of mesoporous graphitic carbon nitride with enhanced photocatalytic H2 evolution under visible light. Chem. Commun. 48(28), 3430–3432 (2012). doi:10.1039/c2cc00001f
S.S. Park, S.W. Chu, C.F. Xue, D, Y. Zhao, C.S. Ha, Facile synthesis of mesoporous carbon nitrides using the incipient wetness method and the application as hydrogen adsorbent. J. Mater. Chem. 21(29), 10801–10807 (2011). doi:10.1039/c1jm10849b
Y. Wang, X.C. Wang, M. Antonietti, Y.J. Zhang, Facile one-pot synthesis of nanoporous carbon nitride solids by using soft templates. Chem. Sus. Chem. 3(4), 435–439 (2010). doi:10.1002/cssc.200900284
F. Goettmann, A. Fischer, M. Antonietti, A. Thomas, Chemical synthesis of mesoporous carbon nitrides using hard templates and their use as a metal-free catalyst for Friedel–Crafts reaction of benzene. Angew. Chem. Int. Ed. 45(27), 4467–4471 (2006). doi:10.1002/anie.200600412
N.Y. Cheng, J.Q. Tian, Q. Liu, C.J. Ge, A.H. Qusti, A.M. Asiri, A.O. Al-Youbi, X. Sun, Au-nanoparticle-loaded graphitic carbon nitride nanosheets: green photocatalytic synthesis and application toward the degradation of organic pollutants. ACS Appl. Mater. Interfaces 5(15), 6815–6819 (2013). doi:10.1021/am401802r
S. Subhajyoti, M. Satyabadi, P. Kulamani, Facile synthesis of Au/g-C3N4 nanocomposites: an inorganic/organic hybrid plasmonic photocatalyst with enhanced hydrogen gas evolution under visible-light irradiation. Chem. Cat. Chem. 6, 1453–1462 (2014). doi:10.1002/cctc.201300949
P. Xiao, Y.X. Zhao, T. Wang, Y.Y. Zhan, H.H. Wang, J.L. Li, A. Thomas, J.J. Zhu, Polymeric carbon nitride/mesoporous silica composites as catalyst support for Au and Pt nanoparticles. Chem. Eur. J. 20(10), 2872–2878 (2014). doi:10.1002/chem.201303741
Y.S. Xu, W.D. Zhang, Ag/AgBr-grafted graphite-like carbon nitride with enhanced plasmonic photocatalytic activity under visible light. Chem. Cat. Chem. 5(8), 2343–2351 (2013). doi:10.1002/cctc.201300144
L. Huang, H. Xu, Y. Li, H. Li, X. Cheng, J. Xia, Y. Xu, G. Cai, Visible-light-induced WO3/g- C3N4 composites with enhanced photocatalytic activity. Dalton Trans. 42(24), 8606–8616 (2013). doi:10.1039/c3dt00115f
S. Kumar, T. Surendar, A. Baruah, V. Shanker, Synthesis of a novel and stable g- C3N4-Ag3PO4 hybrid nanocomposite photocatalyst and study of the photocatalytic activity under visible light irradiation. J. Mater. Chem. A 1(17), 5333–5340 (2013). doi:10.1039/c3ta00186e
C. Chang, L. Zhu, S. Wang, X. Chu, L. Yue, Novel mesoporous graphite carbon nitride/BiOI heterojunction for enhancing photocatalytic performance under visible-light irradiation. ACS Appl. Mater. Interfaces 6(7), 5083–5093 (2014). doi:10.1021/am5002597
Y.L. Tian, B.B. Chang, J.L. Lu, J. Fu, F.J. Xi, X.P. Dong, Hydrothermal synthesis of graphitic carbon nitride-Bi2WO6 heterojunctions with enhanced visible light photocatalytic activities. ACS Appl. Mater. Interfaces 5(15), 7079–7085 (2013). doi:10.1021/am4013819
M. Logar, B. Jancar, S. Sturm, D. Suvorov, Weak polyion multilayer-assisted in situ synthesis as a route toward a plasmonic Ag/TiO2 photocatalyst. Langmuir 26(14), 12215–12224 (2010). doi:10.1021/la101124q
X.F. Wang, S.F. Li, Y.Q. Ma, H.G. Yu, J.G. Yu, H2WO4·H2O/Ag/AgCl composite nanoplates: a plasmonic z-scheme visible-light photocatalyst. J. Phys. Chem. C 115(30), 14648–14655 (2011). doi:10.1021/jp2037476
H. Zhang, X.F. Fan, X. Quan, S. Chen, H.T. Yu, Graphene sheets grafted Ag@AgCl hybrid with enhanced plasmonic photocatalytic activity under visible light. Environ. Sci. Technol. 45(13), 5731–5736 (2011). doi:10.1021/es2002919
G. Begum, J. Manna, R.K. Rana, Controlled orientation in a bio-Inspired assembly of Ag/AgCl/ZnO nanostructures enables enhancement in visible-light-induced photocatalytic performance. Chem. Eur. J. 18, 6847–6853 (2012). doi:10.1002/chem.201103760
M.S. Zhu, P.L. Chen, M.H. Liu, Ag/AgBr/graphene oxide nanocomposite synthesized via oil/water and water/oil microemulsions: a comparison of sunlight energized plasmonic photocatalytic activity. Langmuir 28(7), 3385–3390 (2012). doi:10.1021/la204452p
R. Liu, P. Wang, X.F. Wang, H.G. Yu, J.G. Yu, UV- and visible-light photocatalytic activity of simultaneously deposited and doped Ag/Ag(I)-TiO2 photocatalyst. J. Phys. Chem. C 116(33), 17721–17728 (2012). doi:10.1021/jp305774n
C. Hu, T.W. Peng, X.X. Hu, Y.L. Nie, X.F. Zhou, J.H. Qu, H. He, Plasmon-induced photodegradation of toxic pollutants with Ag–AgI/Al2O3 under visible-light irradiation. JACS 132, 857–862 (2010). doi:10.1021/ja907792d
P. Wang, B.B. Huang, Y. Dai, M.H. Whangbo, Plasmonic photocatalysts: harvesting visible light with noble metal nanoparticles. Phys. Chem. Chem. Phys. 14(28), 9813–9825 (2012). doi:10.1039/c2cp40823f
X. Yao, X.H. Liu, X.L. Hu, Synthesis of the Ag/AgCl/g-C3N4 composite with high photocatalytic activity under visible light irradiation. Chem. Cat. Chem. 6(12), 3409–3418 (2014). doi:10.1002/cctc.201402487
S.W. Zhang, J.X. Li, X.K. Wang, Y.S. Huang, M.Y. Zeng, J.Z. Xu, In situ ion exchange synthesis of strongly coupled Ag@AgCl/g-C3N4 porous nanosheets as plasmonic photocatalyst for highly efficient visible-light photocatalysis. ACS Appl. Mater. Interfaces 6(24), 22116–22125 (2014). doi:10.1021/am505528c
S.L. Lin, L. Liu, J.S. Hu, Y.H. Liang, W.Q. Cui, Nano Ag@AgBr surface-sensitized Bi2WO6 photocatalyst: oil-in-water synthesis and enhanced photocatalytic degradation. Appl. Sur. Sci. 324, 20–29 (2015). doi:10.1016/j.apsusc.2014.10.101
H. Katsumata, T. Sakai, T. Suzuki, S. Kaneco, Highly efficient photocatalytic activity of g-C3N4/Ag3PO4 hybrid photocatalysts through z-scheme photocatalytic mechanism under visible light. Ind. Eng. Chem. Res. 53(19), 8018–8025 (2014). doi:10.1021/ie5012036
X.J. Wang, W.Y. Yang, F.T. Li, Y.B. Xue, R.H. Liu, Y.J. Hao, In Situ microwave-assisted synthesis of porous N–TiO2/g-C3N4 heterojunctions with enhanced visible-light photocatalytic properties. Ind. Eng. Chem. Res. 52(48), 17140–17150 (2013). doi:10.1021/ie402820v
H.J. Cheng, J.G. Hou, H.M. Zhu, X.M. Guo, Plasmonic Z-scheme α/β-Bi2O3–Ag–AgCl photocatalyst with enhanced visible-light photocatalytic performance. RSC Adv. 4(78), 41622–41630 (2014). doi:10.1039/C4RA07938H
R.F. Dong, B.Z. Tian, C.Y. Zeng, T.Y. Li, T.T. Wang, J.L. Zhang, Ecofriendly synthesis and photocatalytic activity of uniform cubic Ag@AgCl plasmonic photocatalyst. J. Phys. Chem. C 117(1), 213–220 (2013). doi:10.1021/jp311970k
L.L. Chen, W.X. Zhang, C. Feng, Z.H. Yang, Y.M. Yang, Replacement/etching route to ZnSe nanotube arrays and their enhanced photocatalytic activities. Ind. Eng. Chem. Res. 51(11), 4208–4214 (2012). doi:10.1021/ie202044v
F. Dong, L.W. Wu, Y.J. Sun, M. Fu, Z.B. Wu, S.C. Lee, Efficient synthesis of polymeric g-C3N4 layered materials as novel efficient visible light driven photocatalysts. J. Mater. Chem. 21(39), 15171–15174 (2011). doi:10.1039/c1jm12844b
Y.X. Tang, Z.J. Gui, C. Xing, A. Li, P.D. Kanhere et al., Efficient Ag@AgCl cubic cage photocatalysts profit from ultrafast plasmon-induced electron transfer processes. Adv. Fun. Mater. 23(23), 2932–2940 (2013). doi:10.1002/adfm.201203379
J.G. Hou, Z. Wang, C. Yang, W.L. Zhou, S.Q. Jiao, H.M. Zhu, Hierarchically plasmonic Z-Scheme photocatalyst of Ag/AgCl nanocrystals decorated mesoporous single-crystalline metastable Bi20TiO32 nanosheets. J. Phys. Chem. C 117(10), 5132–5141 (2013). doi:10.1021/jp311996r
Z.Y. Wang, W. Guan, Y.J. Sun, F. Dong, Y. Zhou, W.K. Ho, Water-assisted production of honeycomb-like g-C3N4 with ultralong carrier lifetime and outstanding photocatalytic activity. Nanoscale 7, 2471–2479 (2015). doi:10.1039/C4NR05732E