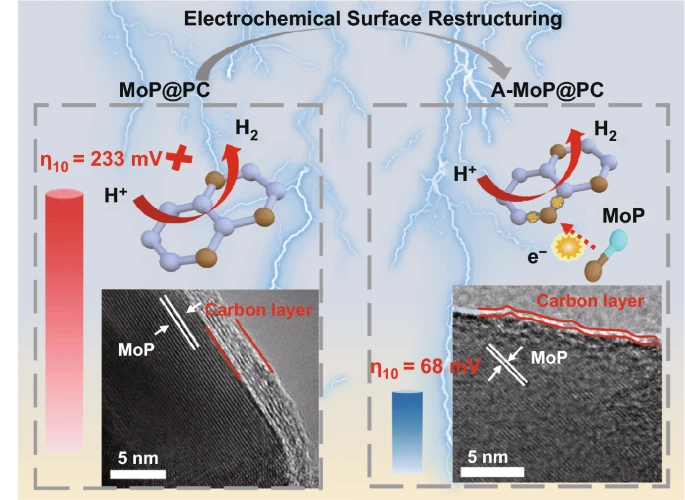 Issue
Electrochemical Surface Restructuring of Phosphorus-Doped Carbon@MoP Electrocatalysts for Hydrogen Evolution
Corresponding Author: Lianzhou Wang
Nano-Micro Letters, Vol. 13 (2021), Article Number: 215

Abstract
The hydrogen evolution reaction (HER) through electrocatalysis is promising for the production of clean hydrogen fuel. However, designing the structure of catalysts, controlling their electronic properties, and manipulating their catalytic sites are a significant challenge in this field. Here, we propose an electrochemical surface restructuring strategy to design synergistically interactive phosphorus-doped carbon@MoP electrocatalysts for the HER. A simple electrochemical cycling method is developed to tune the thickness of the carbon layers that cover on MoP core, which significantly influences HER performance. Experimental investigations and theoretical calculations indicate that the inactive surface carbon layers can be removed through electrochemical cycling, leading to a close bond between the MoP and a few layers of coated graphene. The electrons donated by the MoP core enhance the adhesion and electronegativity of the carbon layers; the negatively charged carbon layers act as an active surface. The electrochemically induced optimization of the surface/interface electronic structures in the electrocatalysts significantly promotes the HER. Using this strategy endows the catalyst with excellent activity in terms of the HER in both acidic and alkaline environments (current density of 10 mA cm−2 at low overpotentials, of 68 mV in 0.5 M H2SO4 and 67 mV in 1.0 M KOH).
Highlights:
1 An electrochemical-induced surface restructuring strategy is developed to design phosphorus-doped carbon@MoP electrocatalysts which exhibits excellent activity for the hydrogen evolution reaction (HER) in both acidic and alkaline electrolytes.
2 The activation process and the fundamental mechanism of the prominent synergistic interaction between the phosphorus-doped carbon and MoP are elucidated.
Keywords
Electrochemical surface restructuring
Hydrogen evolution
Molybdenum phosphide nanowires
Phosphorus-doped carbon
Synergistic interaction
Jiang, Huimin, Liting Yan, Shuo Zhang, Yanchao Zhao, Xue Yang, Yameng Wang, Jianxing Shen, Xuebo Zhao, and Lianzhou Wang. 2021. "Electrochemical Surface Restructuring of Phosphorus-Doped Carbon@MoP Electrocatalysts for Hydrogen Evolution". Nano-Micro Letters 13 (October):215. https://doi.org/10.1007/s40820-021-00737-w.
Download Citation
Endnote/Zotero/Mendeley (RIS)
BibTeX
References
J. Park, T. Kwon, J. Kim, H. Jin, H.Y. Kim et al., Hollow nanoparticles as emerging electrocatalysts for renewable energy conversion reactions. Chem. Soc. Rev. 47(22), 8173–8202 (2018). https://doi.org/10.1039/c8cs00336j
G. Chang, Y. Zhao, L. Dong, D.P. Wilkinson, L. Zhang et al., A review of phosphorus and phosphides as anode materials for advanced sodium-ion batteries. J. Mater. Chem. A 8(10), 4996–5048 (2020). https://doi.org/10.1039/c9ta12169b
M. Xiao, L. Zhang, B. Luo, M. Lyu, Z. Wang et al., Molten-salt-mediated synthesis of an atomic nickel co-catalyst on TiO2 for improved photocatalytic H2 evolution. Angew. Chem. Int. Ed. 59(18), 7230–7234 (2020). https://doi.org/10.1002/anie.202001148
P. Bhanja, Y. Kim, K. Kani, B. Paul, T. Debnath et al., Novel porous metal phosphonates as efficient electrocatalysts for the oxygen evolution reaction. Chem. Eng. J. 396, 125245 (2020). https://doi.org/10.1016/j.cej.2020.125245
T. Liu, P. Li, N. Yao, G. Cheng, S. Chen et al., CoP-doped MOF-based electrocatalyst for pH-universal hydrogen evolution reaction. Angew. Chem. Int. Ed. 58(14), 4679–4684 (2019). https://doi.org/10.1002/anie.201901409
L. Yan, Y. Xu, P. Chen, S. Zhang, H. Jiang et al., A freestanding 3D heterostructure film stitched by MOF-derived carbon nanotube microsphere superstructure and reduced graphene oxide sheets: a superior multifunctional electrode for overall water splitting and Zn-air batteries. Adv. Mater. 32(48), 2003313 (2020). https://doi.org/10.1002/adma.202003313
P. Cheng, M. Kim, H. Lim, J. Lin, N.L. Torad et al., A general approach to shaped MOF-containing aerogels toward practical water treatment application. Adv. Sustain. Syst. 4(8), 2000060 (2020). https://doi.org/10.1002/adsu.202000060
J. Hou, Z. Wang, P. Chen, V. Chen, A.K. Cheetham et al., Intermarriage of halide perovskites and metal-organic framework crystals. Angew. Chem. Int. Ed. 59(44), 19434–19449 (2020). https://doi.org/10.1002/anie.202006956
M.R. Liu, Q.L. Hong, Q.H. Li, Y. Du, H.X. Zhang et al., Cobalt boron imidazolate framework derived cobalt nanoparticles encapsulated in B/N codoped nanocarbon as efficient bifunctional electrocatalysts for overall water splitting. Adv. Funct. Mater. 28(26), 1801136 (2018). https://doi.org/10.1002/adfm.201801136
L. Yan, H. Jiang, Y. Xing, Y. Wang, D. Liu et al., Nickel metal-organic framework implanted on graphene and incubated to be ultrasmall nickel phosphide nanocrystals acts as a highly efficient water splitting electrocatalyst. J. Mater. Chem. A 6(4), 1682–1691 (2018). https://doi.org/10.1039/C7TA10218F
P. Chen, T. Zhou, M. Zhang, Y. Tong, C. Zhong et al., 3D nitrogen-anion-decorated nickel sulfides for highly efficient overall water splitting. Adv. Mater. 29(30), 1701584 (2017). https://doi.org/10.1002/adma.201701584
K. Yao, Z. Xu, M. Ma, J. Li, F. Lu et al., Densified metallic MoS2/graphene enabling fast potassium-ion storage with superior gravimetric and volumetric capacities. Adv. Funct. Mater. 30(24), 2001484 (2020). https://doi.org/10.1002/adfm.202001484
Z. Huang, S. Yuan, T. Zhang, B. Cai, B. Xu et al., Selective selenization of mixed-linker Ni-MOFs: NiSe2@NC core-shell nano-octahedrons with tunable interfacial electronic structure for hydrogen evolution reaction. Appl. Catal. B 272, 118976 (2020). https://doi.org/10.1016/j.apcatb.2020.118976
X. Wang, Y. Chen, B. Yu, Z. Wang, H. Wang et al., Hierarchically porous W-doped CoP nanoflake arrays as highly efficient and stable electrocatalyst for pH-universal hydrogen evolution. Small 15(37), 1902613 (2019). https://doi.org/10.1002/smll.201902613
J. Hou, Y. Wu, B. Zhang, S. Cao, Z. Li et al., Rational design of nanoarray architectures for electrocatalytic water splitting. Adv. Funct. Mater. 29(20), 1808367 (2019). https://doi.org/10.1002/adfm.201808367
S. Zhang, W. Xia, Q. Yang, Y.V. Kaneti, X. Xu et al., Core-shell motif construction: highly graphitic nitrogen-doped porous carbon electrocatalysts using MOF-derived carbon@COF heterostructures as sacrificial templates. Chem. Eng. J. 396, 125154 (2020). https://doi.org/10.1016/j.cej.2020.125154
R. Fernandes, A. Chunduri, S. Gupta, R. Kadrekar, A. Arya et al., Exploring the hydrogen evolution capabilities of earth-abundant ternary metal borides for neutral and alkaline water-splitting. Electrochim. Acta 354, 136738 (2020). https://doi.org/10.1016/j.electacta.2020.136738
R.K. Hona, S.B. Karki, F. Ramezanipour, Oxide electrocatalysts based on earth-abundant metals for both hydrogen- and oxygen-evolution reactions. ACS Sustain. Chem. Eng. 8(31), 11549–11557 (2020). https://doi.org/10.1021/acssuschemeng.0c02498
L. Li, J. He, Y. Wang, X. Lv, X. Gu et al., Metal-organic frameworks: a promising platform for constructing non-noble electrocatalysts for the oxygen-reduction reaction. J. Mater. Chem. A 7(5), 1964–1988 (2019). https://doi.org/10.1039/c8ta11704g
X. Wang, L. Chai, J. Ding, L. Zhong, Y. Du et al., Chemical and morphological transformation of MOF-derived bimetallic phosphide for efficient oxygen evolution. Nano Energy 62, 745–753 (2019). https://doi.org/10.1016/j.nanoen.2019.06.002
H. Tan, Y. Zhao, W. Xia, J. Zhao, X. Xu et al., Phosphorus- and nitrogen-doped carbon nanosheets constructed with monolayered mesoporous architectures. Chem. Mater. 32(10), 4248–4256 (2020). https://doi.org/10.1021/acs.chemmater.0c00731
Y.V. Kaneti, Y. Guo, N.L.W. Septiani, M. Iqbal, X. Jiang et al., Self-templated fabrication of hierarchical hollow manganese-cobalt phosphide yolk-shell spheres for enhanced oxygen evolution reaction. Chem. Eng. J. 405, 126580 (2021). https://doi.org/10.1016/j.cej.2020.126580
F. Li, G.F. Han, H.J. Noh, Y. Lu, J. Xu et al., Construction of porous Mo3P/Mo nanobelts as catalysts for efficient water splitting. Angew. Chem. Int. Ed. 57(43), 14139–14143 (2018). https://doi.org/10.1002/anie.201808844
B. Liu, H. Li, B. Cao, J. Jiang, R. Gao et al., Few layered N, P dual-doped carbon-encapsulated ultrafine MoP nanocrystal/MoP cluster hybrids on carbon cloth: an ultrahigh active and durable 3D self-supported integrated electrode for hydrogen evolution reaction in a wide pH range. Adv. Funct. Mater. 28(30), 1801527 (2018). https://doi.org/10.1002/adfm.201801527
W. Xiao, P. Liu, J. Zhang, W. Song, Y.P. Feng et al., Dual-functional N dopants in edges and basal plane of MoS2 nanosheets toward efficient and durable hydrogen evolution. Adv. Energy Mater. 7(7), 1602086 (2017). https://doi.org/10.1002/aenm.201602086
P. Xiao, M.A. Sk, L. Thia, X. Ge, R.J. Lim et al., Molybdenum phosphide as an efficient electrocatalyst for the hydrogen evolution reaction. Energy Environ. Sci. 7(8), 2624–2629 (2014). https://doi.org/10.1039/c4ee00957f
L. Yu, D. Deng, X. Bao, Chain mail for catalysts. Angew. Chem. Int. Ed. 59(36), 15294–15297 (2020). https://doi.org/10.1002/anie.202007604
H. Jin, X. Wang, C. Tang, A. Vasileff, L. Li et al., Stable and highly efficient hydrogen evolution from seawater enabled by an unsaturated nickel surface nitride. Adv. Mater. 33(13), 2007508 (2021). https://doi.org/10.1002/adma.202007508
J. Deng, P. Ren, D. Deng, X. Bao, Enhanced electron penetration through an ultrathin graphene layer for highly efficient catalysis of the hydrogen evolution reaction. Angew. Chem. Int. Ed. 54(7), 2100–2104 (2015). https://doi.org/10.1002/anie.201409524
X. Liu, J. Meng, J. Zhu, M. Huang, B. Wen et al., Comprehensive understandings into complete reconstruction of precatalysts: synthesis, applications, and characterizations. Adv. Mater. 33(32), 2007344 (2021). https://doi.org/10.1002/adma.202007344
X. Li, L. Xiao, L. Zhou, Q. Xu, J. Weng et al., Adaptive bifunctional electrocatalyst of amorphous CoFe oxide @ 2D black phosphorus for overall water splitting. Angew. Chem. Int. Ed. 59(47), 21106–21113 (2020). https://doi.org/10.1002/anie.202008514
P.W. Menezes, A. Indra, I. Zaharieva, C. Walter, S. Loos et al., Helical cobalt borophosphates to master durable overall water-splitting. Energy Environ. Sci. 12(3), 988–999 (2019). https://doi.org/10.1039/c8ee01669k
Y. Wang, Y. Zhu, S. Zhao, S. She, F. Zhang et al., Anion etching for accessing rapid and deep self-reconstruction of precatalysts for water oxidation. Matter 3, 2124–2137 (2020). https://doi.org/10.1016/j.matt.2020.09.016
X. Wang, C. Xu, M. Jaroniec, Y. Zheng, S.Z. Qiao, Anomalous hydrogen evolution behavior in high-pH environment induced by locally generated hydronium ions. Nat. Commun. 10, 4876 (2019). https://doi.org/10.1038/s41467-019-12773-7
Y. Guo, X. Zhou, J. Tang, S. Tanaka, Y.V. Kaneti et al., Multiscale structural optimization: highly efficient hollow iron-doped metal sulfide heterostructures as bifunctional electrocatalysts for water splitting. Nano Energy 75, 104913 (2020). https://doi.org/10.1016/j.nanoen.2020.104913
J. Duan, S. Chen, C.A. Ortiz-Ledon, M. Jaroniec, S.Z. Qiao, Phosphorus vacancies that boost electrocatalytic hydrogen evolution by two orders of magnitude. Angew. Chem. Int. Ed. 59(21), 8181–8186 (2020). https://doi.org/10.1002/anie.201914967
L. Yan, L. Cao, P. Dai, X. Gu, D. Liu et al., Metal-organic frameworks derived nanotube of nickel-cobalt bimetal phosphides as highly efficient electrocatalysts for overall water splitting. Adv. Funct. Mater. 27(40), 1703455 (2017). https://doi.org/10.1002/adfm.201703455
P. Chen, H. Ren, L. Yan, J. Shen, T. Wang et al., Metal-organic frameworks enabled high-performance separators for safety-reinforced lithium ion battery. ACS Sustain. Chem. Eng. 7(19), 16612–16619 (2019). https://doi.org/10.1021/acssuschemeng.9b03854
C.C. Hou, H.F. Wang, C. Li, Q. Xu, From metal-organic frameworks to single/dual-atom and cluster metal catalysts for energy applications. Energy Environ. Sci. 13(6), 1658–1693 (2020). https://doi.org/10.1039/c9ee04040d
Y. Wang, Y.Y. Xue, L.T. Yan, H.P. Li, Y.P. Li et al., Multimetal incorporation into 2D conductive metal-organic framework nanowires enabling excellent electrocatalytic oxidation of benzylamine to benzonitrile. ACS Appl. Mater. Interfaces 12(22), 24786–24795 (2020). https://doi.org/10.1021/acsami.0c05094
A.A. Ayi, A.D. Burrows, M.F. Mahon, V.M. Sebestyen, A molybdenum diphosphonate network structure exhibiting reversible dehydration and selective uptake of methanol. CrystEngComm 15(45), 9301–9303 (2013). https://doi.org/10.1039/c3ce40484f
K. Liang, S. Pakhira, Z. Yang, A. Nijamudheen, L. Ju et al., S-doped MoP nanoporous layer toward high-efficiency hydrogen evolution in pH-universal electrolyte. ACS Catal. 9(1), 651–659 (2018). https://doi.org/10.1021/acscatal.8b04291
L. Yan, H. Jiang, Y. Wang, L. Li, X. Gu et al., One-step and scalable synthesis of Ni2P nanocrystals encapsulated in N, P-codoped hierarchically porous carbon matrix using a bipyridine and phosphonate linked nickel metal-organic framework as highly efficient electrocatalysts for overall water splitting. Electrochim. Acta 297, 755–766 (2019). https://doi.org/10.1016/j.electacta.2018.12.020
C. Huang, C. Pi, X. Zhang, K. Ding, P. Qin et al., In situ synthesis of MoP nanoflakes intercalated N-doped graphene nanobelts from MoO3-amine hybrid for high-efficient hydrogen evolution reaction. Small 14(25), 1800667 (2018). https://doi.org/10.1002/smll.201800667
X. Zhang, X. Yu, L. Zhang, F. Zhou, Y. Liang et al., Molybdenum phosphide/carbon nanotube hybrids as pH-universal electrocatalysts for hydrogen evolution reaction. Adv. Funct. Mater. 28(16), 1706523 (2018). https://doi.org/10.1002/adfm.201706523
Y. Huang, J. Ge, J. Hu, J. Zhang, J. Hao et al., Nitrogen-doped porous molybdenum carbide and phosphide hybrids on a carbon matrix as highly effective electrocatalysts for the hydrogen evolution reaction. Adv. Energy Mater. 8(6), 1701601 (2018). https://doi.org/10.1002/aenm.201701601
X. Yang, Y.C. Kimmel, J. Fu, B.E. Koel, J.G. Chen, Activation of tungsten carbide catalysts by use of an oxygen plasma pretreatment. ACS Catal. 2(5), 765–769 (2012). https://doi.org/10.1021/cs300081t
J. Xie, H. Zhang, S. Li, R. Wang, X. Sun et al., Defect-rich MoS2 ultrathin nanosheets with additional active edge sites for enhanced electrocatalytic hydrogen evolution. Adv. Mater. 25(40), 5807–5813 (2013). https://doi.org/10.1002/adma.201302685
Z.Q. Liu, H. Cheng, N. Li, T.Y. Ma, Y.Z. Su, ZnCo2O4 quantum dots anchored on nitrogen-doped carbon nanotubes as reversible oxygen reduction/evolution electrocatalysts. Adv. Mater. 28(19), 3777–3784 (2016). https://doi.org/10.1002/adma.201506197
C.C.L. McCrory, S. Jung, I.M. Ferrer, S.M. Chatman, J.C. Peters et al., Benchmarking hydrogen evolving reaction and oxygen evolving reaction electrocatalysts for solar water splitting devices. J. Am. Chem. Soc. 137(13), 4347–4357 (2015). https://doi.org/10.1021/ja510442p
A.T. Swesi, J. Masud, M. Nath, Nickel selenide as a high-efficiency catalyst for oxygen evolution reaction. Energy Environ. Sci. 9(5), 1771–1782 (2016). https://doi.org/10.1039/C5EE02463C
J. Zhong, J.J. Deng, B.H. Mao, T. Xie, X.H. Sun et al., Probing solid state N-doping in graphene by X-ray absorption near-edge structure spectroscopy. Carbon 50, 335–338 (2012). https://doi.org/10.1016/j.carbon.2011.08.046
D. Pacile, M. Papagno, A.F. Rodriguez, M. Grioni, L. Papagno et al., Near-edge X-ray absorption fine-structure investigation of graphene. Phys. Rev. Lett. 101(6), 066806 (2008). https://doi.org/10.1103/PhysRevLett.101.066806
C. Wang, D. Wang, S. Liu, P. Jiang, Z. Lin et al., Engineering the coordination environment enables molybdenum single-atom catalyst for efficient oxygen reduction reaction. J. Catal. 389, 150–156 (2020). https://doi.org/10.1016/j.jcat.2020.05.034
Y. Lin, L. Yang, Y. Zhang, H. Jiang, Z. Xiao et al., Defective carbon-CoP nanoparticles hybrids with interfacial charges polarization for efficient bifunctional oxygen electrocatalysis. Adv. Energy Mater. 8(18), 1703623 (2018). https://doi.org/10.1002/aenm.201703623
Y. Li, D. Liu, J. Gan, X. Duan, K. Zang et al., Sustainable and atomically dispersed iron electrocatalysts derived from nitrogen- and phosphorus-modified woody biomass for efficient oxygen reduction. Adv. Mater. Interfaces 6(4), 1801623 (2019). https://doi.org/10.1002/admi.201801623
D. Zhao, K. Sun, W.C. Cheong, L. Zheng, C. Zhang et al., Synergistically interactive pyridinic-N-MoP sites: identified active centers for enhanced hydrogen evolution in alkaline solution. Angew. Chem. Int. Ed. 59(23), 8982–8990 (2020). https://doi.org/10.1002/anie.201908760
X. Cui, P. Ren, D. Deng, J. Deng, X. Bao, Single layer graphene encapsulating non-precious metals as high-performance electrocatalysts for water oxidation. Energy Environ. Sci. 9(1), 123–129 (2016). https://doi.org/10.1039/c5ee03316k