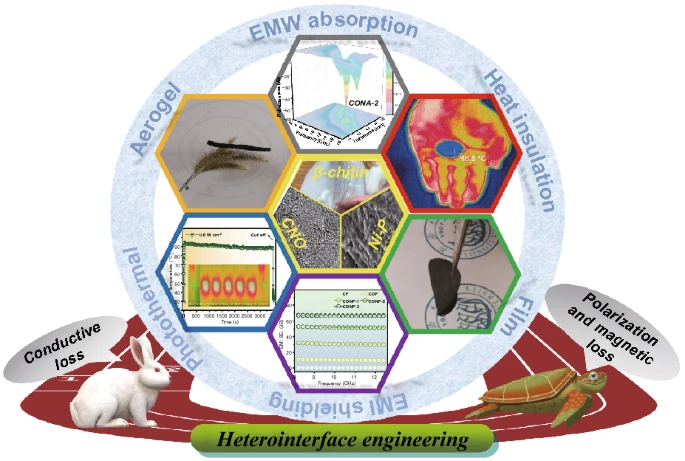 Issue
Heterointerface Engineering of β-Chitin/Carbon Nano-Onions/Ni–P Composites with Boosted Maxwell-Wagner-Sillars Effect for Highly Efficient Electromagnetic Wave Response and Thermal Management
Corresponding Author: Wei Lu
Nano-Micro Letters, Vol. 14 (2022), Article Number: 85

Abstract
The rational construction of microstructure and composition with enhanced Maxwell-Wagner-Sillars effect (MWSE) is still a challenging direction for reinforcing electromagnetic wave (EMW) absorption performance, and the related EMW attenuation mechanism has rarely been elucidated. Herein, MWSE boosted β-chitin/carbon nano-onions/Ni–P composites is prepared according to the heterointerface engineering strategy via facile layer-by-layer electrostatic assembly and electroless plating techniques. The heterogeneous interface is reinforced from the aspect of porous skeleton, nanomaterials and multilayer construction. The composites exhibit competitive EMW response mechanism between the conductive loss and the polarization/magnetic loss, as describing like the story of "The Hare and the Tortoise". As a result, the composites not only achieve a minimum reflection loss (RLmin) of − 50.83 dB and an effective bandwidth of 6.8 GHz, but also present remarkable EMW interference shielding effectiveness of 66.66 dB. In addition, diverse functions such as good thermal insulation, infrared shielding and photothermal performance were also achieved in the hybrid composites as a result of intrinsic morphology and chemicophysics properties. Therefore, we believe that the boosted MWSE open up a novel orientation toward developing multifunctional composites with high-efficient EMW response and thermal management.
Highlights:
1 The squid pen-derived aerogel with intrinsic electropositivity is prepared to electrostatically assemble carbon nano-onion with low escape energy.
2 Under the guidance of PNM model, the interface polarization is reinforced from the aspect of porous skeleton, nanomaterials and multilayer construction.
3 Benefiting from boosted Maxwell-Wagner-Sillars effect, the aerogel and film display remarkable electromagnetic wave absorption (−50.83 dB) and electromagnetic interference shielding performance (66.66 dB), respectively.
Keywords
β-chitin
Nano onion carbon
Electromagnetic wave absorption
Electromagnetic interference shielding
Photothermal
Pan, Fei, Lei Cai, Yuyang Shi, Yanyan Dong, Xiaojie Zhu, Jie Cheng, Haojie Jiang, Xiao Wang, Yifeng Jiang, and Wei Lu. 2022. "Heterointerface Engineering of β-Chitin/Carbon Nano-Onions/Ni–P Composites With Boosted Maxwell-Wagner-Sillars Effect for Highly Efficient Electromagnetic Wave Response and Thermal Management". Nano-Micro Letters 14 (March):85. https://doi.org/10.1007/s40820-022-00804-w.
Download Citation
Endnote/Zotero/Mendeley (RIS)
BibTeX
References
X. Zhang, Z. Liu, B. Deng, L. Cai, Y. Dong et al., Honeycomb-like NiCo2O4@MnO2 nanosheets array/3D porous expanded graphite hybrids for high-performance microwave absorber with hydrophobic and flame-retardant functions. Chem. Eng. J. 414, 129547 (2021). https://doi.org/10.1016/j.cej.2021.129547
F. Pan, Z. Liu, B. Deng, Y. Dong, X. Zhu et al., Magnetic Fe3S4 LTMCs micro-flowers@ wax gourd aerogel-derived carbon hybrids as efficient and sustainable electromagnetic absorber. Carbon 179, 554–565 (2021). https://doi.org/10.1016/j.carbon.2021.04.053
P. Liu, S. Gao, Y. Wang, Y. Huang, F. Zhou et al., Magnetic porous n-doped carbon composites with adjusted composition and porous microstructure for lightweight microwave absorbers. Carbon 173, 655–666 (2021). https://doi.org/10.1016/j.carbon.2020.11.043
P. Liu, S. Gao, Y. Wang, Y. Huang, Y. Wang et al., Core-shell CoNi@graphitic carbon decorated on B, N-codoped hollow carbon polyhedrons toward lightweight and high-efficiency microwave attenuation. ACS Appl. Mater. Interface 11(28), 25624–25635 (2019). https://doi.org/10.1021/acsami.9b08525
J. Ding, L. Wang, Y. Zhao, L. Xing, X. Yu et al., Boosted interfacial polarization from multishell TiO2@Fe3O4@PPy heterojunction for enhanced microwave absorption. Small 15(36), 1902885 (2019). https://doi.org/10.1002/smll.201902885
X. Zhu, Y. Dong, Z. Xiang, L. Cai, F. Pan et al., Morphology-controllable synthesis of polyurethane-derived highly cross-linked 3D networks for multifunctional and efficient electromagnetic wave absorption. Carbon 182, 254–264 (2021). https://doi.org/10.1016/j.carbon.2021.06.028
X. Zhang, Y. Dong, F. Pan, Z. Xiang, X. Zhu et al., Electrostatic self-assembly construction of 2D MoS2 wrapped hollow Fe3O4 nanoflowers@1D carbon tube hybrids for self-cleaning high-performance microwave absorbers. Carbon 177, 332–343 (2021). https://doi.org/10.1016/j.carbon.2021.02.092
Z. Liu, F. Pan, B. Deng, Z. Xiang, W. Lu, Self-assembled MoS2/3D worm-like expanded graphite hybrids for high-efficiency microwave absorption. Carbon 174, 59–69 (2021). https://doi.org/10.1016/j.carbon.2020.12.019
Y. Li, X.F. Liu, X.Y. Nie, W.W. Yang, Y.D. Wang et al., Multifunctional organic-inorganic hybrid aerogel for self-cleaning, heat-insulating, and highly efficient microwave absorbing material. Adv. Funct. Mater. 29(10), 1807624 (2019). https://doi.org/10.1002/adfm.201807624
J. Xu, X. Zhang, Z. Zhao, H. Hu, B. Li et al., Lightweight, fire-retardant, and anti-compressed honeycombed-like carbon aerogels for thermal management and high-efficiency electromagnetic absorbing properties. Small 17(33), 2102032 (2021). https://doi.org/10.1002/smll.202102032
M. Yang, Y. Yuan, Y. Li, X. Sun, S. Wang et al., Anisotropic electromagnetic absorption of aligned Ti3C2Tx MXene/gelatin nanocomposite aerogels. ACS Appl. Mater. Interfaces 12(29), 33128–33138 (2020). https://doi.org/10.1021/acsami.0c09726
F. Wu, A.M. Xie, M.X. Sun, Y. Wang, M.Y. Wang, Reduced graphene oxide (RGO) modified spongelike polypyrrole (PPy) aerogel for excellent electromagnetic absorption. J. Mater. Chem. A 3(27), 14358–14369 (2015). https://doi.org/10.1039/c5ta01577d
L.L. Liang, Z.Q. Zhang, F. Song, W. Zhang, H. Li et al., Ultralight, flexible carbon hybrid aerogels from bacterial cellulose for strong microwave absorption. Carbon 162, 283–291 (2020). https://doi.org/10.1016/j.carbon.2020.02.045
J.J. Li, S. Yang, P.Z. Jiao, Q.Y. Peng, W.L. Yin et al., Three-dimensional macroassembly of hybrid C@CoFe nanops/reduced graphene oxide nanosheets towards multifunctional foam. Carbon 157, 427–436 (2020). https://doi.org/10.1016/j.carbon.2019.10.074
X. Zhu, Y. Dong, F. Pan, Z. Xiang, Z. Liu et al., Covalent organic framework-derived hollow core-shell Fe/Fe3O4@porous carbon composites with corrosion resistance for lightweight and efficient microwave absorption. Compos. Commun. 25, 100731 (2021). https://doi.org/10.1016/j.coco.2021.100731
V. Dhand, M. Yadav, S.H. Kim, K.Y. Rhee, A comprehensive review on the prospects of multi-functional carbon nano onions as an effective, high- performance energy storage material. Carbon 175, 534–575 (2021). https://doi.org/10.1016/j.carbon.2020.12.083
Y. Gao, Y.S. Zhou, M. Qian, X.N. He, J. Redepenning et al., Chemical activation of carbon nano-onions for high-rate supercapacitor electrodes. Carbon 51, 52–58 (2013). https://doi.org/10.1016/j.carbon.2012.08.009
P. Liu, S. Gao, G. Zhang, Y. Huang, W. You et al., Hollow engineering to Co@N-doped carbon nanocages via synergistic protecting-etching strategy for ultrahigh microwave absorption. Adv. Funct. Mater. 31(27), 2102812 (2021). https://doi.org/10.1002/adfm.202102812
S. Zhu, R. Shi, M. Qu, J. Zhou, C. Ye et al., Simultaneously improved mechanical and electromagnetic interference shielding properties of carbon fiber fabrics/epoxy composites via interface engineering. Compos. Sci. Technol. 207, 87–94 (2021). https://doi.org/10.1016/j.compscitech.2021.108696
C. Xu, L. Wang, X. Li, X. Qian, Z. Wu et al., Hierarchical magnetic network constructed by CoFe nanops suspended within "tubes on rods" matrix toward enhanced microwave absorption. Nano-Micro Lett. 13, 47 (2021). https://doi.org/10.1007/s40820-020-00572-5
D. Xing, L. Lu, K.S. Teh, Z. Wan, Y. Xie et al., Highly flexible and ultra-thin Ni-plated carbon-fabric/polycarbonate film for enhanced electromagnetic interference shielding. Carbon 132, 32–41 (2018). https://doi.org/10.1016/j.carbon.2018.02.001
H.N. Cuong, N.C. Minh, N.V. Hoa, T.S. Trung, Preparation and characterization of high purity beta-chitin from squid pens (loligo chenisis). Int. J. Biol. Macromol. 93, 442–447 (2016). https://doi.org/10.1016/j.ijbiomac.2016.08.085
B. Bateer, X.W. Wang, C.G. Tian, Y. Xie, K. Pan et al., Ni2P nanocrystals coated on carbon nanotubes as enhanced lightweight electromagnetic wave absorbers. Carbon 161, 51–61 (2020). https://doi.org/10.1016/j.carbon.2019.12.061
H. Yuan, F. Yan, C. Li, C. Zhu, X. Zhang et al., Nickel nanop encapsulated in few-layer nitrogen-doped graphene supported by nitrogen-doped graphite sheets as a high-performance electromagnetic wave absorbing material. ACS Appl. Mater. Interfaces 10(1), 1399–1407 (2018). https://doi.org/10.1021/acsami.7b15559
J. Xiong, Z. Xiang, J. Zhao, L. Yu, E. Cui et al., Layered NiCo alloy nanops/nanoporous carbon composites derived from bimetallic MOFs with enhanced electromagnetic wave absorption performance. Carbon 154, 391–401 (2019). https://doi.org/10.1016/j.carbon.2019.07.096
Z. Xiang, Y. Shi, X. Zhu, L. Cai, W. Lu, Flexible and waterproof 2D/1D/0D construction of MXene-based nanocomposites for electromagnetic wave absorption, EMI shielding, and photothermal conversion. Nano-Micro Lett. 13, 150 (2021). https://doi.org/10.1007/s40820-021-00673-9
H. Zhao, X. Xu, Y. Wang, D. Fan, D. Liu et al., Heterogeneous interface induced the formation of hierarchically hollow carbon microcubes against electromagnetic pollution. Small 16(43), 2003407 (2020). https://doi.org/10.1002/smll.202003407
D.W. Liu, Y.C. Du, F.Y. Wang, Y.H. Wang, L.R. Cui et al., MOFs-derived multi-chamber carbon microspheres with enhanced microwave absorption. Carbon 157, 478–485 (2020). https://doi.org/10.1016/j.carbon.2019.10.056
H.H. Zhao, X.Z. Xu, D.G. Fan, P. Xu, F.Y. Wang et al., Anchoring porous carbon nanops on carbon nanotubes as a high-performance composite with a unique core-sheath structure for electromagnetic pollution precaution. J. Mater. Chem. A 9(39), 22489–22500 (2021). https://doi.org/10.1039/d1ta06147j
Z. Xiang, X. Wang, X. Zhang, Y. Shi, L. Cai, et al., Self-assembly of nano/microstructured 2D Ti3CNTx -based composites for electromagnetic pollution elimination and joule energy conversion application. Carbon 189, 305–318 (2022). https://doi.org/10.1016/j.carbon.2021.12.075
X. Zhang, L. Cai, Z. Xiang, W. Lu, Hollow CuS microflowers anchored porous carbon composites as lightweight and broadband microwave absorber with flame-retardant and thermal stealth functions. Carbon 184, 514–525 (2021). https://doi.org/10.1016/j.carbon.2021.08.026
J. Qiao, X. Zhang, C. Liu, L. Lyu, Y. Yang et al., Non-magnetic bimetallic MOF-derived porous carbon-wrapped TiO2/ZrTiO4 composites for efficient electromagnetic wave absorption. Nano-Micro Lett. 13, 75 (2021). https://doi.org/10.1007/s40820-021-00606-6
X.F. Zheng, F.X. Qin, H. Wang, Y.W. Mai, H.X. Peng, Microwave absorbing properties of composites containing ultra-low loading of optimized microwires. Compos. Sci. Technol. 151, 62–70 (2017). https://doi.org/10.1016/j.compscitech.2017.08.001
M. Zhou, W.H. Gu, G.H. Wang, J. Zheng, C.C. Pei et al., Sustainable wood-based composites for microwave absorption and electromagnetic interference shielding. J. Mater. Chem. A 8(46), 24267–24283 (2020). https://doi.org/10.1039/d0ta08372k
F. Pan, L. Cai, Y. Dong, X. Zhu, Y. Shi et al., Mixed-dimensional hierarchical configuration of 2D Ni2P nanosheets anchored on 1D silk-derived carbon fiber for extraordinary electromagnetic wave absorption. J. Mater. Sci. Technol. 101, 85–94 (2022). https://doi.org/10.1016/j.jmst.2021.05.066
J.B. Cheng, H.B. Zhao, M. Cao, M.E. Li, A.N. Zhang et al., Banana leaflike C-doped MoS2 aerogels toward excellent microwave absorption performance. ACS Appl. Mater. Interfaces 12(23), 26301–26312 (2020). https://doi.org/10.1021/acsami.0c01841
Y. Qin, Y. Zhang, N. Qi, Q. Wang, X. Zhang et al., Preparation of graphene aerogel with high mechanical stability and microwave absorption ability via combining surface support of metallic-CNTs and interfacial cross-linking by magnetic nanops. ACS Appl. Mater. Interfaces 11(10), 10409–10417 (2019). https://doi.org/10.1021/acsami.8b22382
X.L. Li, X.W. Yin, C.Q. Song, M.K. Han, H.L. Xu et al., Self-assembly core-shell graphene-bridged hollow mxenes spheres 3D foam with ultrahigh specific EM absorption performance. Adv. Funct. Mater. 28(41), 1803938 (2018). https://doi.org/10.1002/adfm.201803938
L. Gai, G. Song, Y. Li, W. Niu, L. Qin et al., Versatile bimetal sulfides nanops-embedded N-doped hierarchical carbonaceous aerogels (N-NixSy/CoxSy@C) for excellent supercapacitors and microwave absorption. Carbon 179, 111–124 (2021). https://doi.org/10.1016/j.carbon.2021.04.029
J. Xu, X. Zhang, H.R. Yuan, S. Zhang, C.L. Zhu et al., N-doped reduced graphene oxide aerogels containing pod-like N-doped carbon nanotubes and FeNi nanops for electromagnetic wave absorption. Carbon 159, 357–365 (2020). https://doi.org/10.1016/j.carbon.2019.12.020
Y. Jiang, Y. Chen, Y.J. Liu, G.X. Sui, Lightweight spongy bone-like graphene@SiC aerogel composites for high-performance microwave absorption. Chem. Eng. J. 337, 522–531 (2018). https://doi.org/10.1016/j.cej.2017.12.131
C.Y. Liang, Z.J. Wang, Eggplant-derived SiC aerogels with high-performance electromagnetic wave absorption and thermal insulation properties. Chem. Eng. J. 373, 598–605 (2019). https://doi.org/10.1016/j.cej.2019.05.076
H.M. Ji, J. Li, J.J. Zhang, Y. Yan, Remarkable microwave absorption performance of ultralight graphene-polyethylene glycol composite aerogels with a very low loading ratio of graphene. Compos. Part A Appl. Sci. Manuf. 123, 158–169 (2019). https://doi.org/10.1016/j.compositesa.2019.05.012
Y. Wang, X. Gao, Y.Q. Fu, X.M. Wu, Q.G. Wang et al., Enhanced microwave absorption performances of polyaniline/graphene aerogel by covalent bonding. Compos. Part B Eng. 169, 221–228 (2019). https://doi.org/10.1016/j.compositesb.2019.04.008
J.W. Luo, Y. Wang, Z.J. Qu, W. Wang, D. Yu, Lightweight and robust cobalt ferrite/carbon nanotubes/waterborne polyurethane hybrid aerogels for efficient microwave absorption and thermal insulation. J. Mater. Chem. C 9(36), 12201–12212 (2021). https://doi.org/10.1039/d1tc02427b
J. Yan, Y. Huang, X. Zhang, X. Gong, C. Chen et al., MoS2-decorated/integrated carbon fiber: phase engineering well-regulated microwave absorber. Nano-Micro Lett. 13, 114 (2021). https://doi.org/10.1007/s40820-021-00646-y
X. Zhang, J. Cheng, Z. Xiang, L. Cai, W. Lu, A hierarchical Co @ mesoporous C/ macroporous C sheet composite derived from bimetallic MOF and oroxylum indicum for enhanced microwave absorption. Carbon 187, 447–487 (2022). https://doi.org/10.1016/j.carbon.2021.11.044
L. Cai, F. Pan, X. Zhu, Y. Dong, Y. Shi, et al., Etching engineering and electrostatic self-assembly of N-doped MXene/hollow Co-ZIF hybrids for highperformance microwave absorbers. Chem. Eng. J. 434, 133865 (2022). https://doi.org/10.1016/j.cej.2021.133865
H. Wang, F. Meng, F. Huang, C. Jing, Y. Li et al., Interface modulating CNTs@PANi hybrids by controlled unzipping of the walls of CNTs to achieve tunable high-performance microwave absorption. ACS Appl. Mater. Interfaces 11(12), 12142–12153 (2019). https://doi.org/10.1021/acsami.9b01122
Y. Guo, J. Li, F. Meng, W. Wei, Q. Yang et al., Hybridization-induced polarization of graphene sheets by intercalation-polymerized polyaniline toward high performance of microwave absorption. ACS Appl. Mater. Interfaces 11(18), 17100–17107 (2019). https://doi.org/10.1021/acsami.9b04498
J. Cheng, L. Cai, Y. Shi, F. Pan, Y. Dong, et al., Polarization loss-enhanced honeycomb-like MoS2 nanoflowers/undaria pinnatifida-derived porous carbon composites with high-efficient electromagnetic wave absorption. Chem. Eng. J. 431, 134284 (2022). https://doi.org/10.1016/j.cej.2021.134284
J. Wang, Z. Jia, X. Liu, J. Dou, B. Xu et al., Construction of 1D heterostructure NiCo@C/ZnO nanorod with enhanced microwave absorption. Nano-Micro Lett. 13, 175 (2021). https://doi.org/10.1007/s40820-021-00704-5
L. Pu, Y. Liu, L. Li, C. Zhang, P. Ma et al., Polyimide nanofiber-reinforced Ti3C2Tx aerogel with "lamella-pillar" microporosity for high-performance piezoresistive strain sensing and electromagnetic wave absorption. ACS Appl. Mater. Interfaces 13(39), 47134–47146 (2021). https://doi.org/10.1021/acsami.1c13863
X. Li, W. You, C. Xu, L. Wang, L. Yang, et al., 3d seed-germination-like mxene with in situ growing cnts/ni heterojunction for enhanced microwave absorption via polarization and magnetization. Nano-Micro Lett. 13, 157 (2021). https://doi.org/10.1021/acsami.1c13863
F. Pan, L. Cai, Y. Shi, Y. Dong, X. Zhu, et al., Phase engineering reinforced multiple loss network in apple tree-like liquid metal/Ni-Ni3P/N-doped carbon fiber composites for high-performance microwave absorption. Chem. Eng. J. 435, 135009 (2022). https://doi.org/10.1016/j.cej.2022.135009
H. Jia, X. Yang, Q.Q. Kong, L.J. Xie, Q.G. Guo et al., Free-standing, anti-corrosion, super flexible graphene oxide/silver nanowire thin films for ultra-wideband electromagnetic interference shielding. J. Mater. Chem. A 9(2), 1180–1191 (2021). https://doi.org/10.1039/d0ta09246k
W.T. Cao, F.F. Chen, Y.J. Zhu, Y.G. Zhang, Y.Y. Jiang et al., Binary strengthening and toughening of MXene/cellulose nanofiber composite paper with nacre-inspired structure and superior electromagnetic interference shielding properties. ACS Nano 12(5), 4583–4593 (2018). https://doi.org/10.1021/acsnano.8b00997
W. Chen, L.X. Liu, H.B. Zhang, Z.Z. Yu, Flexible, transparent, and conductive Ti3C2Tx MXene-silver nanowire films with smart acoustic sensitivity for high-performance electromagnetic interference shielding. ACS Nano 14(12), 16643–16653 (2020). https://doi.org/10.1021/acsnano.0c01635
Z. Xiang, X. Zhu, Y. Dong, X. Zhang, Y. Shi et al., Enhanced electromagnetic wave absorption of magnetic Co nanops/CNTs/EG porous composites with waterproof, flame-retardant and thermal management functions. J. Mater. Chem. A 9(32), 17538–17552 (2021). https://doi.org/10.1039/d1ta05181d
Z. Zhou, Q. Song, B. Huang, S. Feng, C. Lu, Facile fabrication of densely packed Ti3C2 MXene/nanocellulose composite films for enhancing electromagnetic interference shielding and electro-/photothermal performance. ACS Nano 15(7), 12405–12417 (2021). https://doi.org/10.1021/acsnano.1c04526
B. Shen, W. Zhai, W. Zheng, Ultrathin flexible graphene film: an excellent thermal conducting material with efficient emi shielding. Adv. Funct. Mater. 24(28), 4542–4548 (2014). https://doi.org/10.1002/adfm.201400079
M. Loeblein, R.Y. Tay, S.H. Tsang, W.B. Ng, E.H. Teo, Configurable three-dimensional boron nitride-carbon architecture and its tunable electronic behavior with stable thermal performances. Small 10(15), 2992–2999 (2014). https://doi.org/10.1002/smll.201400292