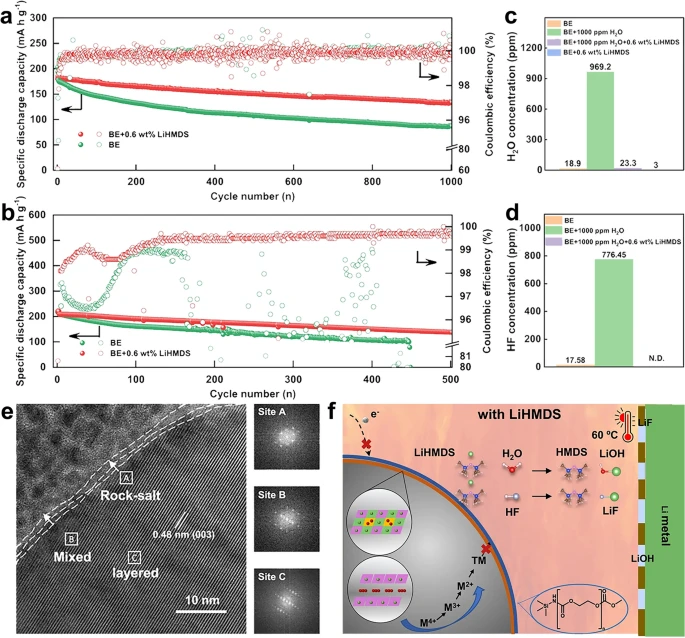 Issue
Lithium Hexamethyldisilazide Endows Li||NCM811 Battery with Superior Performance
Corresponding Author: Jianmin Ma
Nano-Micro Letters, Vol. 15 (2023), Article Number: 33

Abstract
The construction of stable cathode electrolyte interphase (CEI) is the key to improve the NCM811 particle structure and interfacial stability via electrolyte engineering. In He's work, lithium hexamethyldisilazide (LiHMDS) as the electrolyte additive is proposed to facilitate the generation of stable CEI on NCM811 cathode surface and eliminate H2O and HF in the electrolyte at the same time, which boosts the cycling performance of Li||NCM811 battery up to 1000 or 500 cycles with 4.5 V cut-off voltage at 25 or 60 °C.
Keywords
Lithium metal battery
Electrolyte additive
Cathode electrolyte interphase
Lithium hexamethyldisilazide
Cycling performance
Huang, Junda, Yaxiong Yang, Yanxia Liu, and Jianmin Ma. 2023. "Lithium Hexamethyldisilazide Endows Li||NCM811 Battery With Superior Performance". Nano-Micro Letters 15 (January):33. https://doi.org/10.1007/s40820-022-00998-z.
Download Citation
Endnote/Zotero/Mendeley (RIS)
BibTeX
References
D. Wu, J. He, J. Liu, M. Wu, S. Qi et al., Li2CO3/LiF-rich heterostructured solid electrolyte interphase with superior lithiophilic and Li+-transferred characteristics via adjusting electrolyte additives. Adv. Energy. Mater. 12(18), 2200337 (2022). https://doi.org/10.1002/aenm.202200337
S. Qi, H. Wang, J. He, J. Liu, C. Cui et al., Electrolytes enriched by potassium perfluorinated sulfonates for lithium metal batteries. Sci. Bull. 66(7), 685–693 (2021). https://doi.org/10.1016/j.scib.2020.09.018
Z. Yu, P.E. Rudnicki, Z. Zhang, Z. Huang, H. Celik et al., Rational solvent molecule tuning for high-performance lithium metal battery electrolytes. Nat. Energy 7(1), 94–106 (2022). https://doi.org/10.1038/s41560-021-00962-y
J. Huang, J. Liu, J. He, M. Wu, S. Qi et al., Optimizing electrode/electrolyte interphases and Li-ion flux/solvation for lithium-metal batteries with qua-functional heptafluorobutyric anhydride. Angew. Chem. Int. Ed. 60(38), 20717–20722 (2021). https://doi.org/10.1002/anie.202107957
W. Xue, M. Huang, Y. Li, Y.G. Zhu, R. Gao et al., Ultra-high-voltage Ni-rich layered cathodes in practical Li metal batteries enabled by a sulfonamide-based electrolyte. Nat. Energy 6(5), 495–505 (2021). https://doi.org/10.1038/s41560-021-00792-y
P. Xiao, Y. Zhao, Z. Piao, B. Li, G. Zhou et al., A nonflammable electrolyte for ultrahigh-voltage (4.8 V-class) Li||NCM811 cells with a wide temperature range of 100 °C. EnergY Environ. Sci. 15(6), 2435–2444 (2022)
F. Li, J. Liu, J. He, Y. Hou, H. Wang et al., Additive-assisted hydrophobic Li+-solvated structure for stabilizing dual electrode electrolyte interphases through suppressing LiPF6 hydrolysis. Angew. Chem. Int. Ed. 61(27), e202205091 (2022). https://doi.org/10.1002/anie.202205091
X. Fan, C. Wang, High-voltage liquid electrolytes for Li batteries: progress and perspectives. Chem. Soc. Rev. 50(18), 10486–10566 (2021). https://doi.org/10.1039/D1CS00450F
T. Liu, J. Liu, L. Li, L. Yu, J. Diao et al., Origin of structural degradation in Li-rich layered oxide cathode. Nature 606(7913), 305–312 (2022). https://doi.org/10.1038/s41586-022-04689-y
X. Li, J. Liu, J. He, S. Qi, M. Wu et al., Separator-wetted, acid- and water-scavenged electrolyte with optimized Li-ion solvation to form dual efficient electrode electrolyte interphases via hexa-functional additive. Adv. Sci. 9(20), 2201297 (2022). https://doi.org/10.1002/advs.202201297
D. Zhang, M. Liu, J. Ma, K. Yang, Z. Chen et al., Lithium hexamethyldisilazide as electrolyte additive for efficient cycling of high-voltage non-aqueous lithium metal batteries. Nat. Commun. 13(1), 6966 (2022). https://doi.org/10.1038/s41467-022-34717-4
References
D. Wu, J. He, J. Liu, M. Wu, S. Qi et al., Li2CO3/LiF-rich heterostructured solid electrolyte interphase with superior lithiophilic and Li+-transferred characteristics via adjusting electrolyte additives. Adv. Energy. Mater. 12(18), 2200337 (2022). https://doi.org/10.1002/aenm.202200337
S. Qi, H. Wang, J. He, J. Liu, C. Cui et al., Electrolytes enriched by potassium perfluorinated sulfonates for lithium metal batteries. Sci. Bull. 66(7), 685–693 (2021). https://doi.org/10.1016/j.scib.2020.09.018
Z. Yu, P.E. Rudnicki, Z. Zhang, Z. Huang, H. Celik et al., Rational solvent molecule tuning for high-performance lithium metal battery electrolytes. Nat. Energy 7(1), 94–106 (2022). https://doi.org/10.1038/s41560-021-00962-y
J. Huang, J. Liu, J. He, M. Wu, S. Qi et al., Optimizing electrode/electrolyte interphases and Li-ion flux/solvation for lithium-metal batteries with qua-functional heptafluorobutyric anhydride. Angew. Chem. Int. Ed. 60(38), 20717–20722 (2021). https://doi.org/10.1002/anie.202107957
W. Xue, M. Huang, Y. Li, Y.G. Zhu, R. Gao et al., Ultra-high-voltage Ni-rich layered cathodes in practical Li metal batteries enabled by a sulfonamide-based electrolyte. Nat. Energy 6(5), 495–505 (2021). https://doi.org/10.1038/s41560-021-00792-y
P. Xiao, Y. Zhao, Z. Piao, B. Li, G. Zhou et al., A nonflammable electrolyte for ultrahigh-voltage (4.8 V-class) Li||NCM811 cells with a wide temperature range of 100 °C. EnergY Environ. Sci. 15(6), 2435–2444 (2022)
F. Li, J. Liu, J. He, Y. Hou, H. Wang et al., Additive-assisted hydrophobic Li+-solvated structure for stabilizing dual electrode electrolyte interphases through suppressing LiPF6 hydrolysis. Angew. Chem. Int. Ed. 61(27), e202205091 (2022). https://doi.org/10.1002/anie.202205091
X. Fan, C. Wang, High-voltage liquid electrolytes for Li batteries: progress and perspectives. Chem. Soc. Rev. 50(18), 10486–10566 (2021). https://doi.org/10.1039/D1CS00450F
T. Liu, J. Liu, L. Li, L. Yu, J. Diao et al., Origin of structural degradation in Li-rich layered oxide cathode. Nature 606(7913), 305–312 (2022). https://doi.org/10.1038/s41586-022-04689-y
X. Li, J. Liu, J. He, S. Qi, M. Wu et al., Separator-wetted, acid- and water-scavenged electrolyte with optimized Li-ion solvation to form dual efficient electrode electrolyte interphases via hexa-functional additive. Adv. Sci. 9(20), 2201297 (2022). https://doi.org/10.1002/advs.202201297
D. Zhang, M. Liu, J. Ma, K. Yang, Z. Chen et al., Lithium hexamethyldisilazide as electrolyte additive for efficient cycling of high-voltage non-aqueous lithium metal batteries. Nat. Commun. 13(1), 6966 (2022). https://doi.org/10.1038/s41467-022-34717-4