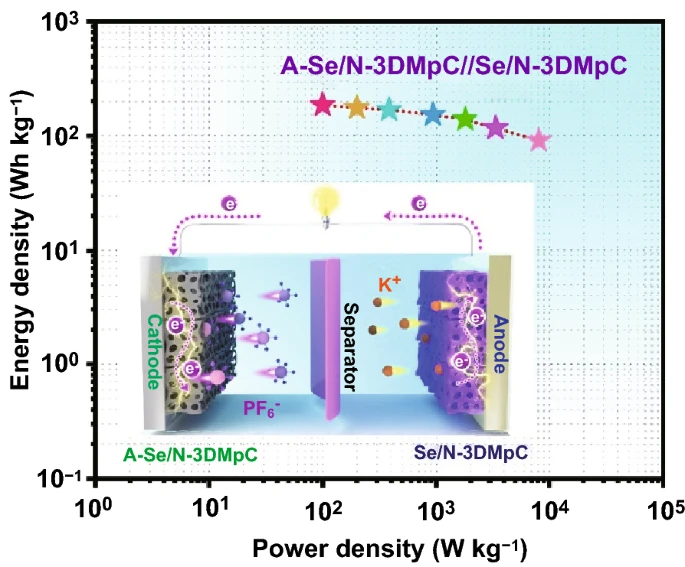 Issue
A General Self-Sacrifice Template Strategy to 3D Heteroatom-Doped Macroporous Carbon for High-Performance Potassium-Ion Hybrid Capacitors
Corresponding Author: Zhenhai Wen
Nano-Micro Letters, Vol. 13 (2021), Article Number: 131

Abstract
Potassium-ion hybrid capacitors (PIHCs) tactfully combining capacitor-type cathode with battery-type anode have recently attracted increasing attentions due to their advantages of decent energy density, high power density, and low cost; the mismatches of capacity and kinetics between capacitor-type cathode and battery-type anode in PIHCs yet hinder their overall performance output. Herein, based on prediction of density functional theory calculations, we find Se/N co-doped porous carbon is a promising candidate for K+ storage and thus develop a simple and universal self-sacrifice template method to fabricate Se and N co-doped three-dimensional (3D) macroporous carbon (Se/N-3DMpC), which features favorable properties of connective hierarchical pores, expanded interlayer structure, and rich activity site for boosting pseudocapacitive activity and kinetics toward K+ storage anode and enhancing capacitance performance for the reversible anion adsorption/desorption cathode. As expected, the as-assembled PIHCs full cell with a working voltage as high as 4.0 V delivers a high energy density of 186 Wh kg−1 and a power output of 8100 W kg−1 as well as excellent long service life. The proof-of-concept PIHCs with excellent performance open a new avenue for the development and application of high-performance hybrid capacitors.
Highlights:
1 A newly versatile self-sacrifice method to fabricate selenium and nitrogen co-doped 3D macroporous carbon was developed.
2 The K+ storage mechanism of Se and N active sites was deeply studied by systematic electrochemical characterization combined with theoretical calculations.
3 The assembled K-ion hybrid capacitor possesses high energy/power densities and excellent cycling stability for practical applications.
Keywords
Potassium-ion hybrid capacitors
Self-sacrifice template
Se/N co-doped
3D macroporous
Long service life
Li, Junwei, Xiang Hu, Guobao Zhong, Yangjie Liu, Yaxin Ji, Junxiang Chen, and Zhenhai Wen. 2021. "A General Self-Sacrifice Template Strategy to 3D Heteroatom-Doped Macroporous Carbon for High-Performance Potassium-Ion Hybrid Capacitors". Nano-Micro Letters 13 (May):131. https://doi.org/10.1007/s40820-021-00659-7.
Download Citation
Endnote/Zotero/Mendeley (RIS)
BibTeX
References
L. Fan, K. Lin, J. Wang, R. Ma, B. Lu, A nonaqueous potassium-based battery-supercapacitor hybrid device. Adv. Mater. 30(20), e1800804 (2018). https://doi.org/10.1002/adma.201800804
L. Xia, B. Tang, J. Wei, Z. Zhou, Recent advances in alkali metal-ion hybrid supercapacitors. Batter. Supercaps (2021). https://doi.org/10.1002/batt.202000332
C. Chen, Z. Wang, B. Zhang, L. Miao, J. Cai, Nitrogen-rich hard carbon as a highly durable anode for high-power potassium-ion batteries. Energy Storage Mater. 8, 161–168 (2017). https://doi.org/10.1016/j.ensm.2017.05.010
J. Chen, B. Yang, B. Liu, J. Lang, X. Yan, Recent advances in anode materials for sodium- and potassium-ion hybrid capacitors. Curr. Opin. Electrochem. 18, 1–8 (2019). https://doi.org/10.1016/j.coelec.2019.07.003
J. Ge, B. Wang, J. Wang, Q. Zhang, B. Lu, Nature of FeSe2/N-C anode for high performance potassium ion hybrid capacitor. Adv. Energy Mater. 10(4), 1903277 (2019). https://doi.org/10.1002/aenm.201903277
H. Li, J. Lang, S. Lei, J. Chen, K. Wang et al., A high-performance sodium-ion hybrid capacitor constructed by metal-organic framework-derived anode and cathode materials. Adv. Funct. Mater. 28(30), 1800757 (2018). https://doi.org/10.1002/adfm.201800757
H.-J. Liang, B.-H. Hou, W.-H. Li, Q.-L. Ning, X. Yang et al., Staging Na/K-ion de-/intercalation of graphite retrieved from spent Li-ion batteries: In operando x-ray diffraction studies and an advanced anode material for Na/K-ion batteries. Energy Environ. Sci. 12(12), 3575–3584 (2019). https://doi.org/10.1039/c9ee02759a
R. Xu, Y. Yao, H. Wang, Y. Yuan, J. Wang et al., Unraveling the nature of excellent potassium storage in small-molecule Se@peapod-like N-doped carbon nanofibers. Adv. Mater. 32(52), e2003879 (2020). https://doi.org/10.1002/adma.202003879
X. Hu, Y. Liu, J. Chen, L. Yi, H. Zhan et al., Fast redox kinetics in Bi-heteroatom doped 3D porous carbon nanosheets for high-performance hybrid potassium-ion battery capacitors. Adv. Energy Mater. 9(42), 1901533 (2019). https://doi.org/10.1002/aenm.201901533
Y. Cui, W. Liu, X. Wang, J. Li, Y. Zhang et al., Bioinspired mineralization under freezing conditions: an approach to fabricate porous carbons with complicated architecture and superior K(+) storage performance. ACS Nano 13(10), 11582–11592 (2019). https://doi.org/10.1021/acsnano.9b05284
Z. Xu, M. Wu, Z. Chen, C. Chen, J. Yang et al., Direct structure-performance comparison of all-carbon potassium and sodium ion capacitors. Adv. Sci. 6(12), 1802272 (2019). https://doi.org/10.1002/advs.201802272
B. Yang, J. Chen, L. Liu, P. Ma, B. Liu et al., 3D Nitrogen-doped framework carbon for high-performance potassium ion hybrid capacitor. Energy Storage Mater. 23, 522–529 (2019). https://doi.org/10.1016/j.ensm.2019.04.008
Y. An, Y. Tian, L. Ci, S. Xiong, J. Feng et al., Micron-sized nanoporous antimony with tunable porosity for high-performance potassium-ion batteries. ACS Nano 12(12), 12932–12940 (2018). https://doi.org/10.1021/acsnano.8b08740
J. Ma, J. Gu, B. Li, S. Yang, Facile fabrication of 2D stanene nanosheets via a dealloying strategy for potassium storage. Chem. Commun. 55(27), 3983–3986 (2019). https://doi.org/10.1039/c9cc00332k
S. Chong, Y. Wu, C. Liu, Y. Chen, S. Guo et al., Cryptomelane-type MnO2/carbon nanotube hybrids as bifunctional electrode material for high capacity potassium-ion full batteries. Nano Energy 54, 106–115 (2018). https://doi.org/10.1016/j.nanoen.2018.09.072
M. Yu, H. Shao, G. Wang, F. Yang, C. Liang et al., Interlayer gap widened alpha-phase molybdenum trioxide as high-rate anodes for dual-ion-intercalation energy storage devices. Nat. Commun. 11(1), 1348 (2020). https://doi.org/10.1038/s41467-020-15216-w
F. Ming, H. Liang, W. Zhang, J. Ming, Y. Lei et al., Porous mxenes enable high performance potassium ion capacitors. Nano Energy 62, 853–860 (2019). https://doi.org/10.1016/j.nanoen.2019.06.013
N. Sun, Q. Zhu, B. Anasori, P. Zhang, H. Liu et al., Mxene-bonded flexible hard carbon film as anode for stable Na/K ion storage. Adv. Funct. Mater. 29(51), 1906282 (2019). https://doi.org/10.1002/adfm.201906282
B. Yang, J. Chen, S. Lei, R. Guo, H. Li et al., Spontaneous growth of 3D framework carbon from sodium citrate for high energy- and power-density and long-life sodium-ion hybrid capacitors. Adv. Energy Mater. 8(10), 1702409 (2018). https://doi.org/10.1002/aenm.201702409
J. Chen, B. Yang, H. Li, P. Ma, J. Lang et al., Candle soot: Onion-like carbon, an advanced anode material for a potassium-ion hybrid capacitor. J. Mater. Chem. A 7(15), 9247–9252 (2019). https://doi.org/10.1039/c9ta01653h
D. Qi, Y. Liu, Z. Liu, L. Zhang, X. Chen, Design of architectures and materials in in-plane micro-supercapacitors: current status and future challenges. Adv. Mater. 29(5), 1602802 (2017). https://doi.org/10.1002/adma.201602802
L.-F. Chen, Y. Lu, L. Yu, X.W. Lou, Designed formation of hollow particle-based nitrogen-doped carbon nanofibers for high-performance supercapacitors. Energy Environ. Sci. 10(8), 1777–1783 (2017). https://doi.org/10.1039/c7ee00488e
B. Wang, E.H. Ang, Y. Yang, Y. Zhang, M. Ye et al., Post-lithium-ion battery era: recent advances in rechargeable potassium-ion batteries. Chem. Eur. J. (2020). https://doi.org/10.1002/chem.202001811
X. Liu, G.A. Elia, B. Qin, H. Zhang, P. Ruschhaupt et al., High-power Na-ion and K-ion hybrid capacitors exploiting cointercalation in graphite negative electrodes. ACS Energy Lett. 4(11), 2675–2682 (2019). https://doi.org/10.1021/acsenergylett.9b01675
Z. Jian, Z. Xing, C. Bommier, Z. Li, X. Ji, Hard carbon microspheres: potassium-ion anode versus sodium-ion anode. Adv. Energy Mater. 6(3), 1501874 (2016). https://doi.org/10.1002/aenm.201501874
Z. Jian, W. Luo, X. Ji, Carbon electrodes for K-ion batteries. J. Am. Chem. Soc. 137(36), 11566–11569 (2015). https://doi.org/10.1021/jacs.5b06809
Z. Jian, S. Hwang, Z. Li, A.S. Hernandez, X. Wang et al., Hard-soft composite carbon as a long-cycling and high-rate anode for potassium-ion batteries. Adv. Funct. Mater. 27(26), 1700324 (2017). https://doi.org/10.1002/adfm.201700324
Z. Xing, Y. Qi, Z. Jian, X. Ji, Polynanocrystalline graphite: A new carbon anode with superior cycling performance for K-ion batteries. ACS Appl. Mater. Interfaces 9(5), 4343–4351 (2017). https://doi.org/10.1021/acsami.6b06767
R.A. Adams, J.M. Syu, Y. Zhao, C.T. Lo, A. Varma et al., Binder-free N- and O-rich carbon nanofiber anodes for long cycle life K-ion batteries. ACS Appl. Mater. Interfaces 9(21), 17872–17881 (2017). https://doi.org/10.1021/acsami.7b02476
W. Yang, J. Zhou, S. Wang, Z. Wang, F. Lv et al., A three-dimensional carbon framework constructed by N/S co-doped graphene nanosheets with expanded interlayer spacing facilitates potassium ion storage. ACS Energy Lett. 5(5), 1653–1661 (2020). https://doi.org/10.1021/acsenergylett.0c00413
P. Giannozzi, S. Baroni, N. Bonini, M. Calandra, R. Car et al., Quantum espresso: a modular and open-source software project for quantum simulations of materials. J. Phys. Condens. Matter 21(39), 395502 (2009). https://doi.org/10.1088/0953-8984/21/39/395502
J. Ye, H. Zhao, W. Song, N. Wang, M. Kang et al., Enhanced electronic conductivity and sodium-ion adsorption in N/S co-doped ordered mesoporous carbon for high-performance sodium-ion battery anode. J. Power Sources 412, 606–614 (2019). https://doi.org/10.1016/j.jpowsour.2018.12.002
B. Huang, L. Xiao, J. Lu, L. Zhuang, Spatially resolved quantification of the surface reactivity of solid catalysts. Angew. Chem. Int. Ed. 55(21), 6239–6243 (2016). https://doi.org/10.1002/anie.201601824
J. Chen, B. Yang, H. Hou, H. Li, L. Liu et al., Disordered, large interlayer spacing, and oxygen-rich carbon nanosheets for potassium ion hybrid capacitor. Adv. Energy Mater. 9(19), 1803894 (2019). https://doi.org/10.1002/aenm.201803894
S. Liu, M. Wang, T. Qian, J. Liu, C. Yan, Selenium-doped carbon nanosheets with strong electron cloud delocalization for nondeposition of metal oxides on air cathode of zinc-air battery. ACS Appl. Mater. Interfaces 11(22), 20056–20063 (2019). https://doi.org/10.1021/acsami.9b04870
W. Hong, Y. Zhang, L. Yang, Y. Tian, P. Ge et al., Carbon quantum dot micelles tailored hollow carbon anode for fast potassium and sodium storage. Nano Energy 65, 104038 (2019). https://doi.org/10.1016/j.nanoen.2019.104038
X. Hu, G. Zhong, J. Li, Y. Liu, J. Yuan et al., Hierarchical porous carbon nanofibers for compatible anode and cathode of potassium-ion hybrid capacitor. Energy Environ. Sci. 13(8), 2431–2440 (2020). https://doi.org/10.1039/d0ee00477d
X. Huang, J. Deng, Y. Qi, D. Liu, Y. Wu et al., A highly-effective nitrogen-doped porous carbon sponge electrode for advanced K-Se batteries. Inorg. Chem. Front. 7(5), 1182–1189 (2020). https://doi.org/10.1039/c9qi01506j
X. Hu, J. Jia, G. Wang, J. Chen, H. Zhan et al., Reliable and general route to inverse opal structured nanohybrids of carbon-confined transition metal sulfides quantum dots for high-performance sodium storage. Adv. Energy Mater. 8(25), 1801452 (2018). https://doi.org/10.1002/aenm.201801452
M. Chen, W. Wang, X. Liang, S. Gong, J. Liu et al., Sulfur/oxygen codoped porous hard carbon microspheres for high-performance potassium-ion batteries. Adv. Energy Mater. 8(19), 1800171 (2018). https://doi.org/10.1002/aenm.201800171
Y. Liu, H. Dai, L. Wu, W. Zhou, L. He et al., A large scalable and low-cost sulfur/nitrogen dual-doped hard carbon as the negative electrode material for high-performance potassium-ion batteries. Adv. Energy Mater. 9(34), 1901379 (2019). https://doi.org/10.1002/aenm.201901379
A. Mahmood, S. Li, Z. Ali, H. Tabassum, B. Zhu et al., Ultrafast sodium/potassium-ion intercalation into hierarchically porous thin carbon shells. Adv. Mater. 31(2), e1805430 (2019). https://doi.org/10.1002/adma.201805430
Y. Qian, S. Jiang, Y. Li, Z. Yi, J. Zhou et al., In situ revealing the electroactivity of P-O and P-C bonds in hard carbon for high-capacity and long-life Li/K-ion batteries. Adv. Energy Mater. 9(34), 1901676 (2019). https://doi.org/10.1002/aenm.201901676
Y. Xu, C. Zhang, M. Zhou, Q. Fu, C. Zhao et al., Highly nitrogen doped carbon nanofibers with superior rate capability and cyclability for potassium ion batteries. Nat. Commun. 9(1), 1720 (2018). https://doi.org/10.1038/s41467-018-04190-z
W. Yang, J. Zhou, S. Wang, W. Zhang, Z. Wang et al., Freestanding film made by necklace-like N-doped hollow carbon with hierarchical pores for high-performance potassium-ion storage. Energy Environ. Sci. 12(5), 1605–1612 (2019). https://doi.org/10.1039/c9ee00536f
X. Zhou, L. Chen, W. Zhang, J. Wang, Z. Liu et al., Three-dimensional ordered macroporous metal-organic framework single crystal-derived nitrogen-doped hierarchical porous carbon for high-performance potassium-ion batteries. Nano Lett. 19(8), 4965–4973 (2019). https://doi.org/10.1021/acs.nanolett.9b01127
C. Li, X. Zhang, Z. Lv, K. Wang, X. Sun et al., Scalable combustion synthesis of graphene-welded activated carbon for high-performance supercapacitors. Chem. Eng. J. 414, 128781 (2021). https://doi.org/10.1016/j.cej.2021.128781
C. Li, X. Zhang, K. Wang, X. Sun, G. Liu et al., Scalable self-propagating high-temperature synthesis of graphene for supercapacitors with superior power density and cyclic stability. Adv. Mater. 29(7), 1604690 (2017). https://doi.org/10.1002/adma.201604690
L. Liu, Y. Chen, Y. Xie, P. Tao, Q. Li et al., Understanding of the ultrastable K-ion storage of carbonaceous anode. Adv. Funct. Mater. 28(29), 1801989 (2018). https://doi.org/10.1002/adfm.201801989
Y. Li, W. Zhong, C. Yang, F. Zheng, Q. Pan et al., N/S codoped carbon microboxes with expanded interlayer distance toward excellent potassium storage. Chem. Eng. J. 358, 1147–1154 (2019). https://doi.org/10.1016/j.cej.2018.10.135
D. Li, X. Ren, Q. Ai, Q. Sun, L. Zhu et al., Facile fabrication of nitrogen-doped porous carbon as superior anode material for potassium-ion batteries. Adv. Energy Mater. 8(34), 1802386 (2018). https://doi.org/10.1002/aenm.201802386
Y. Li, Y. Yang, P. Zhou, T. Gao, Z. Xu et al., Enhanced cathode and anode compatibility for boosting both energy and power densities of Na/K-ion hybrid capacitors. Matter 1(4), 893–910 (2019). https://doi.org/10.1016/j.matt.2019.04.003
Z. Zhang, M. Li, Y. Gao, Z. Wei, M. Zhang et al., Fast potassium storage in hierarchical Ca0.5Ti2(PO4)3@C microspheres enabling high-performance potassium-ion capacitors. Adv. Funct. Mater. 28(36), 1802684 (2018). https://doi.org/10.1002/adfm.201802684
X. Chen, X.R. Chen, T.Z. Hou, B.Q. Li, X.B. Cheng et al., Lithiophilicity chemistry of heteroatom-doped carbon to guide uniform lithium nucleation in lithium metal anodes. Sci. Adv. 5(2), aau7728 (2019). https://doi.org/10.1126/sciadv.aau7728
M. Chen, L. Wang, X. Sheng, T. Wang, J. Zhou et al., An ultrastable nonaqueous potassium-ion hybrid capacitor. Adv. Funct. Mater. 30(40), 2004247 (2020). https://doi.org/10.1002/adfm.202004247
Y. Luo, L. Liu, K. Lei, J. Shi, G. Xu et al., A nonaqueous potassium-ion hybrid capacitor enabled by two-dimensional diffusion pathways of dipotassium terephthalate. Chem. Sci. 10(7), 2048–2052 (2019). https://doi.org/10.1039/c8sc04489a
D. Qiu, J. Guan, M. Li, C. Kang, J. Wei et al., Kinetics enhanced nitrogen-doped hierarchical porous hollow carbon spheres boosting advanced potassium-ion hybrid capacitors. Adv. Funct. Mater. 29(32), 1903496 (2019). https://doi.org/10.1002/adfm.201903496
Y. Wang, Z. Zhang, G. Wang, X. Yang, Y. Sui et al., Ultrafine Co2P nanorods wrapped by graphene enable a long cycle life performance for a hybrid potassium-ion capacitor. Nanoscale Horiz. 4(6), 1394–1401 (2019). https://doi.org/10.1039/c9nh00211a