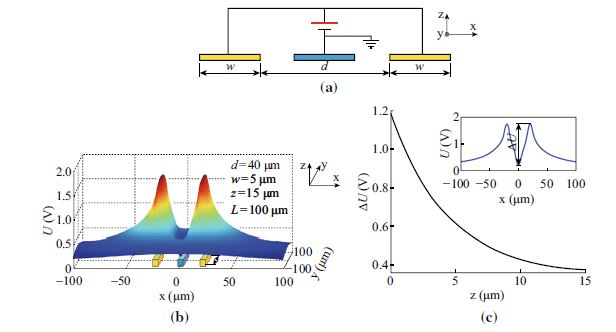 Issue
Trapping and Driving Individual Charged Micro-particles in Fluid with an Electrostatic Device
Corresponding Author: Shengyong Xu
Nano-Micro Letters, Vol. 8 No. 3 (2016), Article Number: 270-281

Abstract
A variety of micro-tweezers techniques, such as optical tweezers, magnetic tweezers, and dielectrophoresis technique, have been applied intensively in precise characterization of micro/nanoparticles and bio-molecules. They have contributed remarkably in better understanding of working mechanisms of individual sub-cell organelles, proteins, and DNA. In this paper, we present a controllable electrostatic device embedded in a microchannel, which is capable of driving, trapping, and releasing charged micro-particles suspended in microfluid, demonstrating the basic concepts of electrostatic tweezers. Such a device is scalable to smaller size and offers an alternative to currently used micro-tweezers for application in sorting, selecting, manipulating, and analyzing individual micro/nanoparticles. Furthermore, the system offers the potential in being combined with dielectrophoresis and other techniques to create hybrid micro-manipulation systems.
Keywords
Electrostatic tweezers
Charged particles
Coulomb potential well
Manipulation
Trap
Xu, Jingjing, Zijing Lei, Jingkun Guo, Jie Huang, Wei Wang, Uta Reibetanz, and Shengyong Xu. 2016. "Trapping and Driving Individual Charged Micro-Particles in Fluid With an Electrostatic Device". Nano-Micro Letters 8 (3):270-81. https://doi.org/10.1007/s40820-016-0087-3.
Download Citation
Endnote/Zotero/Mendeley (RIS)
BibTeX
References
F. Dalfovo, S. Giorgini, L.P. Pitaevskii, S. Stringari, Theory of Bose-Einstein condensation in trapped gases. Rev. Mod. Phys. 71(3), 463–512 (1999). doi:10.1103/RevModPhys.71.463
M.H. Anderson, J.R. Ensher, M.R. Matthews, C.E. Wieman, E.A. Cornell, Observation of bose-einstein condensation in a dilute atomic vapor. Science 269(5221), 198–201 (1995). doi:10.1126/science.269.5221.198
S. Chu, Cold atoms and quantum control. Nature 416(6877), 206–210 (2002). doi:10.1038/416206a
S.T. Cundiff, J. Ye, Colloquium: Femtosecond optical frequency combs. Rev. Mod. Phys. 75(1), 325–342 (2003). doi:10.1103/RevModPhys.75.325
S.A. Diddams, J.C. Bergquist, S.R. Jefferts, C.W. Oates, Standards of time and frequency at the outset of the 21st century. Science 306(5700), 1318–1324 (2004). doi:10.1126/science.1102330
S. Chu, Laser manipulation of atoms and particles. Science 253(5022), 861–866 (1991). doi:10.1126/science.253.5022.861
J. Ye, H.J. Kimble, H. Katori, Quantum state engineering and precision metrology using state-insensitive light traps. Science 320(5884), 1734–1738 (2008). doi:10.1126/science.1148259
A. Ashkin, Optical trapping and manipulation of neutral particles using lasers. Proc. Natl. Acad. Sci. USA 94(10), 4853–4860 (1997). doi:10.1073/pnas.94.10.4853
W.M. Lee, X.C. Yuan, W.C. Cheong, Optical vortex beam shaping by use of highly efficient irregular spiral phase plates for optical micromanipulation. Opt. Lett. 29(15), 1796–1798 (2004). doi:10.1364/ol.29.001796
S. Sato, H. Inaba, Optical trapping and manipulation of microscopic particles and biological cells by laser beams. Opt. Quant. Electron. 28(1), 1–16 (1996). doi:10.1007/bf00578546
M. Andersson, O. Axner, F. Almqvist, B.E. Uhlin, E. Fallman, Physical properties of biopolymers assessed by optical tweezers: Analysis of folding and refolding of bacterial pili. ChemPhysChem 9(2), 221–235 (2008). doi:10.1002/cphc.200700389
K. Norregaard, L. Jauffred, K. Berg-Sorensen, L.B. Oddershede, Optical manipulation of single molecules in the living cell. Phys. Chem. Chem. Phys. 16(25), 12614–12624 (2014). doi:10.1039/c4cp00208c
S. Seeger, S. Monajembashi, K.J. Hutter, G. Futterman, J. Wolfrum, K.O. Greulich, Application of laser optical tweezers in immunology and molecular-genetics. Cytometry 12(6), 497–504 (1991). doi:10.1002/cyto.990120606
P. Ben-Abdallah, A.O. El Moctar, B. Ni, N. Aubry, P. Singh, Optical manipulation of neutral nanoparticles suspended in a microfluidic channel. J. Appl. Phys. 99(9), 094303 (2006). doi:10.1063/1.2191572
W.H. Zhang, L.N. Huang, C. Santschi, O.J.F. Martin, Trapping and sensing 10 nm metal nanoparticles using plasmonic dipole antennas. Nano Lett. 10(3), 1006–1011 (2010). doi:10.1021/nl904168f
S. Dash, S. Mohanty, Dielectrophoretic separation of micron and submicron particles: a review. Electrophoresis 35(18), 2656–2672 (2014). doi:10.1002/elps.201400084
N. Lewpiriyawong, C. Yang, AC-dielectrophoretic characterization and separation of submicron and micron particles using sidewall AgPDMS electrodes. Biomicrofluidics 6(1), 012807 (2012). doi:10.1063/1.3682049
N. Markarian, M. Yeksel, B. Khusid, K.R. Farmer, A. Acrivos, Particle motions and segregation in dielectrophoretic microfluidics. J. Appl. Phys. 94(6), 4160–4169 (2003). doi:10.1063/1.1600845
H.A. Pohl, I. Hawk, Separation of living and dead cells by dielectrophoresis. Science 152(3722), 647–649 (1966). doi:10.1126/science.152.3722.647-a
I.F. Cheng, H.-C. Chang, D. Hou, H.-C. Chang, An integrated dielectrophoretic chip for continuous bioparticle filtering, focusing, sorting, trapping, and detecting. Biomicrofluidics 1(2), 021503 (2007). doi:10.1063/1.2723669
R. Pethig, Review article-dielectrophoresis: status of the theory, technology, and applications. Biomicrofluidics 4, 022811 (2010). doi:10.1063/1.3456626
C. Zhang, K. Khoshmanesh, A. Mitchell, K. Kalantar-zadeh, Dielectrophoresis for manipulation of micro/nano particles in microfluidic systems. Anal. Bioanal. Chem. 396(1), 401–420 (2010). doi:10.1007/s00216-009-2922-6
W. Paul, Electromagnetic traps for charged and neutral particles. Rev. Mod. Phys. 62(3), 531–540 (1990). doi:10.1103/RevModPhys.62.531
N.D. Scielzo, R.M. Yee, P.F. Bertone, F. Buchinger, S.A. Caldwell et al., A novel approach to beta-delayed neutron spectroscopy using the beta-decay Paul trap. Nucl. Data Sheets 120, 70–73 (2014). doi:10.1016/j.nds.2014.07.009
Y. Rondelez, G. Tresset, T. Nakashima, Y. Kato-Yamada, H. Fujita, S. Takeuchi, H. Noji, Highly coupled ATP synthesis by F-1-ATPase single molecules. Nature 433(7027), 773–777 (2005). doi:10.1038/nature03277
I. De Vlaminck, C. Dekker, Recent advances in magnetic tweezers. Annu. Rev. Biophys. 41, 453–472 (2012). doi:10.1146/annurev-biophys-122311-100544
C. Liu, T. Stakenborg, S. Peeters, L. Lagae, Cell manipulation with magnetic particles toward microfluidic cytometry. J. Appl. Phys. 105, 102014 (2009). doi:10.1063/1.3116091
C. Bao, L. Chen, T. Wang, C. Lei, F. Tian, D. Cui, Y. Zhou, One step quick detection of cancer cell surface marker by integrated NiFe-based magnetic biosensing cell cultural chip. Nano-Micro Lett. 5(3), 213–222 (2013). doi:10.5101/nml.v5i3.p213-222
L. Yu, H. Wu, B. Wu, Z. Wang, H. Cao, C. Fu, N. Jia, Magnetic Fe3O4-reduced graphene oxide nanocomposites-based electrochemical biosensing. Nano-Micro Lett. 6(3), 258–267 (2014). doi:10.5101/nml140028a
T.R. Strick, G. Charvin, N.H. Dekker, J.F. Allemand, D. Bensimon, V. Croquette, Tracking enzymatic steps of DNA topoisomerases using single-molecule micromanipulation. C. R. Phys. 3(5), 595–618 (2002). doi:10.1016/s1631-0705(02)01347-6
S.Y. Xu, W.Q. Sun, M. Zhang, J. Xu, L.M. Peng, Transmission electron microscope observation of a freestanding nanocrystal in a Coulomb potential well. Nanoscale 2(2), 248–253 (2010). doi:10.1039/b9nr00144a
V.P. Oleshko, J.M. Howe, Are electron tweezers possible? Ultramicroscopy 111(11), 1599–1606 (2011). doi:10.1016/j.ultramic.2011.08.015
V.P. Oleshko, J.M. Howe, Advances in imaging and electron physics, vol. 179 (Elsevier Academic Press Inc., San Diego, 2013), pp. 203–262. doi:10.1016/b978-0-12-407700-3.00003-x
A.A. Kayani, K. Khoshmanesh, S.A. Ward, A. Mitchell, K. Kalantar-Zadeh, Optofluidics incorporating actively controlled micro- and nano-particles. Biomicrofluidics 6(3), 32 (2012). doi:10.1063/1.4736796
K. Kalantar-zadeh, J.Z. Ou, T. Daeneke, M.S. Strano, M. Pumera, S.L. Gras, Two-dimensional transition metal dichalcogenides in biosystems. Adv. Funct. Mater. 25(32), 5086–5099 (2015). doi:10.1002/adfm.201500891
J. Chen, D. Chen, Y. Xie, T. Yuan, X. Chen, Progress of microfluidics for biology and medicine. Nano-Micro Lett. 5(1), 66–80 (2013). doi:10.3786/nml.v5i1.p66-80
I. Artsimovitch, M.N. Vassylyeva, D. Svetlov, V. Svetlov, A. Perederina, N. Igarashi, N. Matsugaki, S. Wakatsuki, T.H. Tahirov, D.G. Vassylyev, Allosteric modulation of the RNA polymerase catalytic reaction is an essential component of transcription control by rifamycins. Cell 122(3), 351–363 (2005). doi:10.1016/j.cell.2005.07.014
S.J. Benkovic, S. Hammes-Schiffer, A perspective on enzyme catalysis. Science 301(5637), 1196–1202 (2003). doi:10.1126/science.1085515
M. Buck, W. Cannon, Specific binding of the transcription factor Sigma-54 to promoter DNA. Nature 358(6385), 422–424 (1992). doi:10.1038/358422a0
F.C. Oberstrass, S.D. Auweter, M. Erat, Y. Hargous, A. Henning, P. Wenter, L. Reymond, B. Amir-Ahmady, S. Pitsch, D.L. Black, F.H.T. Allain, Structure of PTB bound to RNA: specific binding and implications for splicing regulation. Science 309(5743), 2054–2057 (2005). doi:10.1126/science.1114066
S.J. Singer, G.L. Nicolson, Fluid mosaic model of structure of cell-membranes. Science 175(4023), 720–731 (1972). doi:10.1126/science.175.4023.720
T.J. Yoo, O.A. Roholt, D. Pressman, Specific binding activity of isolated light chains of antibodies. Science 157(3789), 707–709 (1967). doi:10.1126/science.157.3789.707
V. Zimarino, C. Wu, Induction of sequence-specific binding of drosophila heat-shoch activator protein without protein-synthesis. Nature 327(6124), 727–730 (1987). doi:10.1038/327727a0
F. Avbelj, J. Moult, Role of electrostatic screening in determining protein main-chain conformation preferences. Biochemistry 34(3), 755–764 (1995). doi:10.1021/bi00003a008
A.I. Popescu, Possible specificity of cellular interaction due to electrostatic forces. Electro- Magnetobiol. 14(2), 65–74 (1995). doi:10.3109/15368379509022546
A.A. Kornyshev, S. Leikin, Theory of interaction between helical molecules. J. Chem. Phys. 107(9), 3656–3674 (1997). doi:10.1063/1.475320
E. Seyrek, P.L. Dubin, J. Henriksen, Nonspecific electrostatic binding characteristics of the heparin-antithrombin interaction. Biopolymers 86(3), 249–259 (2007). doi:10.1002/bip.20731
M.P. Singh, J. Stefko, J.A. Lumpkin, J. Rosenblatt, The effect of electrostatic charge interactions on release rate of gentamicin from collagen matrices. Pharm. Res. 12(8), 1205–1210 (1995). doi:10.1023/a:1016272212833
S. Sabri, A. Pierres, A.M. Benoliel, P. Bongrand, Influence of surface charges on cell adhesion: difference between static and dynamic conditions. Biochem. Cell Biol. 73(7–8), 411–420 (1995). doi:10.1139/o95-048
I. Rouzina, V.A. Bloomfield, Competitive electrostatic binding of charged ligands to polyelectrolytes: practical approach using the non-linear Poisson-Boltzmann equation. Biophys. Chem. 64(1–3), 139–155 (1997). doi:10.1016/s0301-4622(96)02231-4
A.A. Kornyshev, S. Leikin, Electrostatic interaction between helical macromolecules in dense aggregates: an impetus for DNA poly- and mesomorphism. Proc. Natl. Acad. Sci. USA 95(23), 13579–13584 (1998). doi:10.1073/pnas.95.23.13579
U. Sharma, R.S. Negin, J.D. Carbeck, Effects of cooperativity in proton binding on the net charge of proteins in charge ladders. J. Phys. Chem. B 107(19), 4653–4666 (2003). doi:10.1021/jp027780d
H.M. Berman, J. Westbrook, Z. Feng, G. Gilliland, T.N. Bhat, H. Weissig, I.N. Shindyalov, P.E. Bourne, The protein data bank. Nucleic Acids Res. 28(1), 235–242 (2000). doi:10.1093/nar/28.1.235
J. Gruber, A. Zawaira, R. Saunders, C.P. Barrett, M.E.M. Noble, Computational analyses of the surface properties of protein-protein interfaces. Acta Crystallogr. D 63, 50–57 (2007). doi:10.1107/s0907444906046762
P. Schaefer, D. Riccardi, Q. Cui, Reliable treatment of electrostatics in combined QM/MM simulation of macromolecules. J. Chem. Phys. 123(1), 014905 (2005). doi:10.1063/1.1940047
R.J. Zauhar, A. Varnek, A fast and space-efficient boundary element method for computing electrostatic and hydration effects in large molecules. J. Comput. Chem. 17(7), 864–877 (1996). doi:10.1002/(sici)1096-987x(199605)17:7<864:aid-jcc10>3.0.co;2-b
M. Malinska, K.N. Jarzembska, A.M. Goral, A. Kutner, K. Wozniak, P.M. Dominiak, Sunitinib: from charge-density studies to interaction with proteins. Acta Crystallogr. D 70, 1257–1270 (2014). doi:10.1107/s1399004714002351
M. Krishnan, N. Mojarad, P. Kukura, V. Sandoghdar, Geometry-induced electrostatic trapping of nanometric objects in a fluid. Nature 467(7316), 692–695 (2010). doi:10.1038/nature09404
Q.W. Zhuang, W.Q. Sun, Y.L. Zheng, J.W. Xue, H.X. Liu, M. Chen, S.Y. Xu, A multilayered microfluidic system with functions for local electrical and thermal measurements. Microfluid. Nanofluid. 12(6), 963–970 (2012). doi:10.1007/s10404-011-0930-2
J. Koo, C. Kleinstreuer, Impact analysis of nanoparticle motion mechanisms on the thermal conductivity of nanofluids. Int. Commun. Heat Mass 32(9), 1111–1118 (2005). doi:10.1016/j.icheatmasstransfer.2005.05.014
W.B. Russel, Brownian-motion of small particles suspended in liquids. Annu. Rev. Fluid Mech. 13, 425–455 (1981). doi:10.1146/annurev.fl.13.010181.002233
R. Tadmor, E. Hernandez-Zapata, N.H. Chen, P. Pincus, J.N. Israelachvili, Debye length and double-layer forces in polyelectrolyte solutions. Macromolecules 35(6), 2380–2388 (2002). doi:10.1021/ma011893y
A. Ajdari, Electro-osmosis on inhomogeneously charged surfaces. Phys. Rev. Lett. 75(4), 755–758 (1995). doi:10.1103/PhysRevLett.75.755
C. Kan, C. Bo, W. Jiankang, Numerical analysis of field-modulated electroosmotic flows in microchannels with arbitrary numbers and configurations of discrete electrodes. Biomed. Microdevices 12(6), 959–966 (2010). doi:10.1007/s10544-010-9450-1
G.M. Mala, D.Q. Li, Flow characteristics of water in microtubes. Int. J. Heat Fluid Flow 20(2), 142–148 (1999). doi:10.1016/S0142-727X(98)10043-7
Y. Demircan, E. Ozgur, H. Kulah, Dielectrophoresis: applications and future outlook in point of care. Electrophoresis 34(7), 1008–1027 (2013). doi:10.1002/elps.201200446
W. Guan, J.H. Park, P.S. Krstic, M.A. Reed, Non-vanishing ponderomotive AC electrophoretic effect for particle trapping. Nanotechnology 22(24), 245103 (2011). doi:10.1088/0957-4484/22/24/245103
C.-C. Chung, T. Glawdel, C.L. Ren, H.-C. Chang, Combination of ac electroosmosis and dielectrophoresis for particle manipulation on electrically-induced microscale wave structures. J. Micromech. Microeng. 25(3), 035003 (2015). doi:10.1088/0960-1317/25/3/035003
T.Z. Jubery, S.K. Srivastava, P. Dutta, Dielectrophoretic separation of bioparticles in microdevices: a review. Electrophoresis 35(5), 691–713 (2014). doi:10.1002/elps.201300424
References
F. Dalfovo, S. Giorgini, L.P. Pitaevskii, S. Stringari, Theory of Bose-Einstein condensation in trapped gases. Rev. Mod. Phys. 71(3), 463–512 (1999). doi:10.1103/RevModPhys.71.463
M.H. Anderson, J.R. Ensher, M.R. Matthews, C.E. Wieman, E.A. Cornell, Observation of bose-einstein condensation in a dilute atomic vapor. Science 269(5221), 198–201 (1995). doi:10.1126/science.269.5221.198
S. Chu, Cold atoms and quantum control. Nature 416(6877), 206–210 (2002). doi:10.1038/416206a
S.T. Cundiff, J. Ye, Colloquium: Femtosecond optical frequency combs. Rev. Mod. Phys. 75(1), 325–342 (2003). doi:10.1103/RevModPhys.75.325
S.A. Diddams, J.C. Bergquist, S.R. Jefferts, C.W. Oates, Standards of time and frequency at the outset of the 21st century. Science 306(5700), 1318–1324 (2004). doi:10.1126/science.1102330
S. Chu, Laser manipulation of atoms and particles. Science 253(5022), 861–866 (1991). doi:10.1126/science.253.5022.861
J. Ye, H.J. Kimble, H. Katori, Quantum state engineering and precision metrology using state-insensitive light traps. Science 320(5884), 1734–1738 (2008). doi:10.1126/science.1148259
A. Ashkin, Optical trapping and manipulation of neutral particles using lasers. Proc. Natl. Acad. Sci. USA 94(10), 4853–4860 (1997). doi:10.1073/pnas.94.10.4853
W.M. Lee, X.C. Yuan, W.C. Cheong, Optical vortex beam shaping by use of highly efficient irregular spiral phase plates for optical micromanipulation. Opt. Lett. 29(15), 1796–1798 (2004). doi:10.1364/ol.29.001796
S. Sato, H. Inaba, Optical trapping and manipulation of microscopic particles and biological cells by laser beams. Opt. Quant. Electron. 28(1), 1–16 (1996). doi:10.1007/bf00578546
M. Andersson, O. Axner, F. Almqvist, B.E. Uhlin, E. Fallman, Physical properties of biopolymers assessed by optical tweezers: Analysis of folding and refolding of bacterial pili. ChemPhysChem 9(2), 221–235 (2008). doi:10.1002/cphc.200700389
K. Norregaard, L. Jauffred, K. Berg-Sorensen, L.B. Oddershede, Optical manipulation of single molecules in the living cell. Phys. Chem. Chem. Phys. 16(25), 12614–12624 (2014). doi:10.1039/c4cp00208c
S. Seeger, S. Monajembashi, K.J. Hutter, G. Futterman, J. Wolfrum, K.O. Greulich, Application of laser optical tweezers in immunology and molecular-genetics. Cytometry 12(6), 497–504 (1991). doi:10.1002/cyto.990120606
P. Ben-Abdallah, A.O. El Moctar, B. Ni, N. Aubry, P. Singh, Optical manipulation of neutral nanoparticles suspended in a microfluidic channel. J. Appl. Phys. 99(9), 094303 (2006). doi:10.1063/1.2191572
W.H. Zhang, L.N. Huang, C. Santschi, O.J.F. Martin, Trapping and sensing 10 nm metal nanoparticles using plasmonic dipole antennas. Nano Lett. 10(3), 1006–1011 (2010). doi:10.1021/nl904168f
S. Dash, S. Mohanty, Dielectrophoretic separation of micron and submicron particles: a review. Electrophoresis 35(18), 2656–2672 (2014). doi:10.1002/elps.201400084
N. Lewpiriyawong, C. Yang, AC-dielectrophoretic characterization and separation of submicron and micron particles using sidewall AgPDMS electrodes. Biomicrofluidics 6(1), 012807 (2012). doi:10.1063/1.3682049
N. Markarian, M. Yeksel, B. Khusid, K.R. Farmer, A. Acrivos, Particle motions and segregation in dielectrophoretic microfluidics. J. Appl. Phys. 94(6), 4160–4169 (2003). doi:10.1063/1.1600845
H.A. Pohl, I. Hawk, Separation of living and dead cells by dielectrophoresis. Science 152(3722), 647–649 (1966). doi:10.1126/science.152.3722.647-a
I.F. Cheng, H.-C. Chang, D. Hou, H.-C. Chang, An integrated dielectrophoretic chip for continuous bioparticle filtering, focusing, sorting, trapping, and detecting. Biomicrofluidics 1(2), 021503 (2007). doi:10.1063/1.2723669
R. Pethig, Review article-dielectrophoresis: status of the theory, technology, and applications. Biomicrofluidics 4, 022811 (2010). doi:10.1063/1.3456626
C. Zhang, K. Khoshmanesh, A. Mitchell, K. Kalantar-zadeh, Dielectrophoresis for manipulation of micro/nano particles in microfluidic systems. Anal. Bioanal. Chem. 396(1), 401–420 (2010). doi:10.1007/s00216-009-2922-6
W. Paul, Electromagnetic traps for charged and neutral particles. Rev. Mod. Phys. 62(3), 531–540 (1990). doi:10.1103/RevModPhys.62.531
N.D. Scielzo, R.M. Yee, P.F. Bertone, F. Buchinger, S.A. Caldwell et al., A novel approach to beta-delayed neutron spectroscopy using the beta-decay Paul trap. Nucl. Data Sheets 120, 70–73 (2014). doi:10.1016/j.nds.2014.07.009
Y. Rondelez, G. Tresset, T. Nakashima, Y. Kato-Yamada, H. Fujita, S. Takeuchi, H. Noji, Highly coupled ATP synthesis by F-1-ATPase single molecules. Nature 433(7027), 773–777 (2005). doi:10.1038/nature03277
I. De Vlaminck, C. Dekker, Recent advances in magnetic tweezers. Annu. Rev. Biophys. 41, 453–472 (2012). doi:10.1146/annurev-biophys-122311-100544
C. Liu, T. Stakenborg, S. Peeters, L. Lagae, Cell manipulation with magnetic particles toward microfluidic cytometry. J. Appl. Phys. 105, 102014 (2009). doi:10.1063/1.3116091
C. Bao, L. Chen, T. Wang, C. Lei, F. Tian, D. Cui, Y. Zhou, One step quick detection of cancer cell surface marker by integrated NiFe-based magnetic biosensing cell cultural chip. Nano-Micro Lett. 5(3), 213–222 (2013). doi:10.5101/nml.v5i3.p213-222
L. Yu, H. Wu, B. Wu, Z. Wang, H. Cao, C. Fu, N. Jia, Magnetic Fe3O4-reduced graphene oxide nanocomposites-based electrochemical biosensing. Nano-Micro Lett. 6(3), 258–267 (2014). doi:10.5101/nml140028a
T.R. Strick, G. Charvin, N.H. Dekker, J.F. Allemand, D. Bensimon, V. Croquette, Tracking enzymatic steps of DNA topoisomerases using single-molecule micromanipulation. C. R. Phys. 3(5), 595–618 (2002). doi:10.1016/s1631-0705(02)01347-6
S.Y. Xu, W.Q. Sun, M. Zhang, J. Xu, L.M. Peng, Transmission electron microscope observation of a freestanding nanocrystal in a Coulomb potential well. Nanoscale 2(2), 248–253 (2010). doi:10.1039/b9nr00144a
V.P. Oleshko, J.M. Howe, Are electron tweezers possible? Ultramicroscopy 111(11), 1599–1606 (2011). doi:10.1016/j.ultramic.2011.08.015
V.P. Oleshko, J.M. Howe, Advances in imaging and electron physics, vol. 179 (Elsevier Academic Press Inc., San Diego, 2013), pp. 203–262. doi:10.1016/b978-0-12-407700-3.00003-x
A.A. Kayani, K. Khoshmanesh, S.A. Ward, A. Mitchell, K. Kalantar-Zadeh, Optofluidics incorporating actively controlled micro- and nano-particles. Biomicrofluidics 6(3), 32 (2012). doi:10.1063/1.4736796
K. Kalantar-zadeh, J.Z. Ou, T. Daeneke, M.S. Strano, M. Pumera, S.L. Gras, Two-dimensional transition metal dichalcogenides in biosystems. Adv. Funct. Mater. 25(32), 5086–5099 (2015). doi:10.1002/adfm.201500891
J. Chen, D. Chen, Y. Xie, T. Yuan, X. Chen, Progress of microfluidics for biology and medicine. Nano-Micro Lett. 5(1), 66–80 (2013). doi:10.3786/nml.v5i1.p66-80
I. Artsimovitch, M.N. Vassylyeva, D. Svetlov, V. Svetlov, A. Perederina, N. Igarashi, N. Matsugaki, S. Wakatsuki, T.H. Tahirov, D.G. Vassylyev, Allosteric modulation of the RNA polymerase catalytic reaction is an essential component of transcription control by rifamycins. Cell 122(3), 351–363 (2005). doi:10.1016/j.cell.2005.07.014
S.J. Benkovic, S. Hammes-Schiffer, A perspective on enzyme catalysis. Science 301(5637), 1196–1202 (2003). doi:10.1126/science.1085515
M. Buck, W. Cannon, Specific binding of the transcription factor Sigma-54 to promoter DNA. Nature 358(6385), 422–424 (1992). doi:10.1038/358422a0
F.C. Oberstrass, S.D. Auweter, M. Erat, Y. Hargous, A. Henning, P. Wenter, L. Reymond, B. Amir-Ahmady, S. Pitsch, D.L. Black, F.H.T. Allain, Structure of PTB bound to RNA: specific binding and implications for splicing regulation. Science 309(5743), 2054–2057 (2005). doi:10.1126/science.1114066
S.J. Singer, G.L. Nicolson, Fluid mosaic model of structure of cell-membranes. Science 175(4023), 720–731 (1972). doi:10.1126/science.175.4023.720
T.J. Yoo, O.A. Roholt, D. Pressman, Specific binding activity of isolated light chains of antibodies. Science 157(3789), 707–709 (1967). doi:10.1126/science.157.3789.707
V. Zimarino, C. Wu, Induction of sequence-specific binding of drosophila heat-shoch activator protein without protein-synthesis. Nature 327(6124), 727–730 (1987). doi:10.1038/327727a0
F. Avbelj, J. Moult, Role of electrostatic screening in determining protein main-chain conformation preferences. Biochemistry 34(3), 755–764 (1995). doi:10.1021/bi00003a008
A.I. Popescu, Possible specificity of cellular interaction due to electrostatic forces. Electro- Magnetobiol. 14(2), 65–74 (1995). doi:10.3109/15368379509022546
A.A. Kornyshev, S. Leikin, Theory of interaction between helical molecules. J. Chem. Phys. 107(9), 3656–3674 (1997). doi:10.1063/1.475320
E. Seyrek, P.L. Dubin, J. Henriksen, Nonspecific electrostatic binding characteristics of the heparin-antithrombin interaction. Biopolymers 86(3), 249–259 (2007). doi:10.1002/bip.20731
M.P. Singh, J. Stefko, J.A. Lumpkin, J. Rosenblatt, The effect of electrostatic charge interactions on release rate of gentamicin from collagen matrices. Pharm. Res. 12(8), 1205–1210 (1995). doi:10.1023/a:1016272212833
S. Sabri, A. Pierres, A.M. Benoliel, P. Bongrand, Influence of surface charges on cell adhesion: difference between static and dynamic conditions. Biochem. Cell Biol. 73(7–8), 411–420 (1995). doi:10.1139/o95-048
I. Rouzina, V.A. Bloomfield, Competitive electrostatic binding of charged ligands to polyelectrolytes: practical approach using the non-linear Poisson-Boltzmann equation. Biophys. Chem. 64(1–3), 139–155 (1997). doi:10.1016/s0301-4622(96)02231-4
A.A. Kornyshev, S. Leikin, Electrostatic interaction between helical macromolecules in dense aggregates: an impetus for DNA poly- and mesomorphism. Proc. Natl. Acad. Sci. USA 95(23), 13579–13584 (1998). doi:10.1073/pnas.95.23.13579
U. Sharma, R.S. Negin, J.D. Carbeck, Effects of cooperativity in proton binding on the net charge of proteins in charge ladders. J. Phys. Chem. B 107(19), 4653–4666 (2003). doi:10.1021/jp027780d
H.M. Berman, J. Westbrook, Z. Feng, G. Gilliland, T.N. Bhat, H. Weissig, I.N. Shindyalov, P.E. Bourne, The protein data bank. Nucleic Acids Res. 28(1), 235–242 (2000). doi:10.1093/nar/28.1.235
J. Gruber, A. Zawaira, R. Saunders, C.P. Barrett, M.E.M. Noble, Computational analyses of the surface properties of protein-protein interfaces. Acta Crystallogr. D 63, 50–57 (2007). doi:10.1107/s0907444906046762
P. Schaefer, D. Riccardi, Q. Cui, Reliable treatment of electrostatics in combined QM/MM simulation of macromolecules. J. Chem. Phys. 123(1), 014905 (2005). doi:10.1063/1.1940047
R.J. Zauhar, A. Varnek, A fast and space-efficient boundary element method for computing electrostatic and hydration effects in large molecules. J. Comput. Chem. 17(7), 864–877 (1996). doi:10.1002/(sici)1096-987x(199605)17:7<864:aid-jcc10>3.0.co;2-b
M. Malinska, K.N. Jarzembska, A.M. Goral, A. Kutner, K. Wozniak, P.M. Dominiak, Sunitinib: from charge-density studies to interaction with proteins. Acta Crystallogr. D 70, 1257–1270 (2014). doi:10.1107/s1399004714002351
M. Krishnan, N. Mojarad, P. Kukura, V. Sandoghdar, Geometry-induced electrostatic trapping of nanometric objects in a fluid. Nature 467(7316), 692–695 (2010). doi:10.1038/nature09404
Q.W. Zhuang, W.Q. Sun, Y.L. Zheng, J.W. Xue, H.X. Liu, M. Chen, S.Y. Xu, A multilayered microfluidic system with functions for local electrical and thermal measurements. Microfluid. Nanofluid. 12(6), 963–970 (2012). doi:10.1007/s10404-011-0930-2
J. Koo, C. Kleinstreuer, Impact analysis of nanoparticle motion mechanisms on the thermal conductivity of nanofluids. Int. Commun. Heat Mass 32(9), 1111–1118 (2005). doi:10.1016/j.icheatmasstransfer.2005.05.014
W.B. Russel, Brownian-motion of small particles suspended in liquids. Annu. Rev. Fluid Mech. 13, 425–455 (1981). doi:10.1146/annurev.fl.13.010181.002233
R. Tadmor, E. Hernandez-Zapata, N.H. Chen, P. Pincus, J.N. Israelachvili, Debye length and double-layer forces in polyelectrolyte solutions. Macromolecules 35(6), 2380–2388 (2002). doi:10.1021/ma011893y
A. Ajdari, Electro-osmosis on inhomogeneously charged surfaces. Phys. Rev. Lett. 75(4), 755–758 (1995). doi:10.1103/PhysRevLett.75.755
C. Kan, C. Bo, W. Jiankang, Numerical analysis of field-modulated electroosmotic flows in microchannels with arbitrary numbers and configurations of discrete electrodes. Biomed. Microdevices 12(6), 959–966 (2010). doi:10.1007/s10544-010-9450-1
G.M. Mala, D.Q. Li, Flow characteristics of water in microtubes. Int. J. Heat Fluid Flow 20(2), 142–148 (1999). doi:10.1016/S0142-727X(98)10043-7
Y. Demircan, E. Ozgur, H. Kulah, Dielectrophoresis: applications and future outlook in point of care. Electrophoresis 34(7), 1008–1027 (2013). doi:10.1002/elps.201200446
W. Guan, J.H. Park, P.S. Krstic, M.A. Reed, Non-vanishing ponderomotive AC electrophoretic effect for particle trapping. Nanotechnology 22(24), 245103 (2011). doi:10.1088/0957-4484/22/24/245103
C.-C. Chung, T. Glawdel, C.L. Ren, H.-C. Chang, Combination of ac electroosmosis and dielectrophoresis for particle manipulation on electrically-induced microscale wave structures. J. Micromech. Microeng. 25(3), 035003 (2015). doi:10.1088/0960-1317/25/3/035003
T.Z. Jubery, S.K. Srivastava, P. Dutta, Dielectrophoretic separation of bioparticles in microdevices: a review. Electrophoresis 35(5), 691–713 (2014). doi:10.1002/elps.201300424